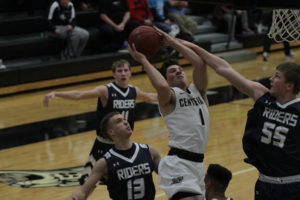 The Ankeny Centennial boys' basketball team overcame a slow start to defeat visiting Des Moines Roosevelt, 53-44, in a CIML non-conference game on Tuesday.
The Jaguars battled back from an early 16-12 deficit to extend their winning streak to six games. They won for the ninth time in their last 10 contests while raising their record to 9-3 on the season.
"It was a good win," said Centennial coach Bob Fontana. "We started out like we were sleepwalking in the first quarter, but we picked it up and I thought our second half was really strong. We played well defensively and started getting some better looks offensively."
Zach Kluver had 17 points, five rebounds and three steals to lead the Jaguars. He made 9-of-12 free throws.
"If it wasn't for (Kluver) in the first half, we would have been in trouble," Fontana said. "At halftime we only had seven or eight rebounds, and Kluver had the majority of them."
Kluver also provided a spark on defense.
"Their point guard, (Nabil) Musa, hurt us in the first half," Fontana said. "But we put Kluver on him in the second half, and he did a really good job."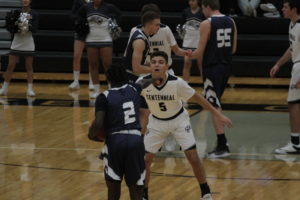 Center Cade Moritz had 15 points for Roosevelt (7-5). But after scoring his team's first seven points of the game, the 6-foot-7 senior was kept under control.
"We did a much better job on him in the second half," Fontana said.
Centennial got 14 points and five rebounds from Hunter Strait, while Jackson Brannan added nine points and three assists. They both had a pair of 3-point goals.
The Jaguars will host Valley on Friday. The Tigers are the only team to defeat Centennial in its last 10 games.