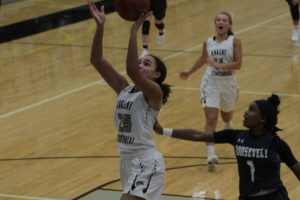 It didn't take long for Keanna Williams to show that her surgically-repaired right knee is as good as new.
After checking into a game for the first time this season, the Ankeny Centennial point guard stole the ball near midcourt with about 1 minute left in the first quarter of Tuesday's CIML non-conference contest against visiting Des Moines Roosevelt.
Williams then dribbled behind her back before driving in for an easy layup during the ninth-ranked Jaguars' 67-20 victory.
"It kind of just came out of nowhere," Williams said of the nifty move. "I wasn't really expecting it myself, but you practice for moments like those."
Williams, a 5-foot-11 senior, suffered a torn ACL during an AAU tournament game last summer in Minneapolis. She was cleared to play last week, but did not see any action in Centennial's 52-50 win over No. 7 Waukee on Friday.
"I was definitely nervous, but my team was cheering for me and I knew they had my back," Williams said. "It felt good to be back with my teammates. Things are back to normal, and I can do what I do."
Williams scored four points while playing a total of 10 minutes and 44 seconds. She also contributed four assists and three steals.
Her playing time is expected to increase gradually as she continues to get stronger.
"The good news is that every time she steps on the floor, her improvement is going to be big every time," said Centennial coach Scott DeJong. "She has a lot of upside."
Chloe Olson poured in 18 points as the Jaguars improved to 11-3 on the season. Meg Burns had 13 points, all of them in the first half, and Rachel Schon added 11.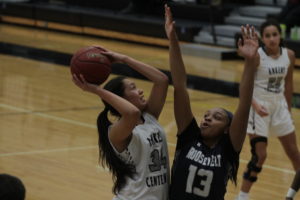 The Roughriders (4-10) used a zone defense in an effort to stop Centennial's inside game, but the Jaguars still found ways to get the ball to their post players.
"When Rachel and Alex(andria Keahna-Harris) came back (from their injuries), I knew that other teams were going to be afraid of us because we're so big and we can do a lot of stuff in the paint," Olson said. "But we practice a lot against a zone because we know it's coming. We're always ready for it."
Centennial also struck from the perimeter, making six 3-point goals. Burns had a trio of treys in the first half, and Sydney Wycoff added two more in the second half.
"We've seen a lot of 1-2-2 zones," DeJong said. "I think just to match up with our kids inside, (our opponents) are picking their poison and they seem to want us to shoot some 3s instead of getting it inside. But the beauty of it is that we're very balanced, and we've added some dribble penetration the last few weeks which has added another facet to our game."
Now, the Jaguars have added another potent weapon with the return of Williams.
"She's a beast," Olson said. "It was really good to have her back. We need another point guard, and she can do a lot of damage."