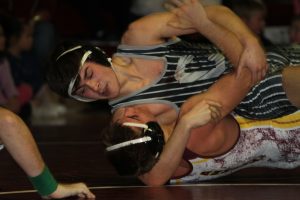 On a night when Ankeny's wrestling seniors were recognized, crosstown rival Ankeny Centennial stole the spotlight.
The visiting Jaguars racked up six falls and rolled to a 43-25 victory in a CIML Central Conference dual meet on Thursday. The win avenged last year's 28-26 loss to the Hawks.
"That loss was a very big motivating factor because we beat them every year except last year," said Centennial heavyweight Riley McClaskey, who opened the meet with a fall. "We just wanted to make our legacy as seniors and make sure that we ended on top."
Centennial dominated the second half of the meet, winning five of the last seven matches after the Hawks had briefly taken the lead. The Jaguars improved to 2-2 in the conference and 16-5 overall, while Ankeny's records dropped to 1-3 and 5-6.
"Our guys wrestled really well. I was pleased," said Centennial coach Jay Groth, whose team tied a school record for most wins in a season. "We had a little adversity there with the loss by (Ben) Monroe, but we didn't let that take our momentum away."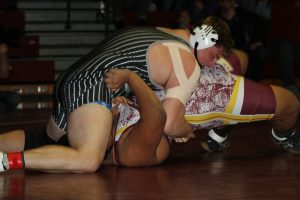 The Jaguars got off to a fast start when McClaskey pinned Romello Gray in just 35 seconds at 285 pounds. The two wrestlers had split a pair of matches at the Bob Sharp Invitational on Saturday.
In the rubber match, Gray got an early takedown and put McClaskey onto his back. But McClaskey then flipped Gray over and got the pin.
"Honestly, we were just drilling throughout practice all week," McClaskey said. "We don't overlook anybody. We just go as hard as we can every day against anybody."
The Jaguars also got pins from 10th-ranked Noah Blubaugh at 113, Alan Ayres at 145, Desmond Vaughan at 152, fifth-ranked Colin Honderd at 182 and Noah Stober at 195. All but one of the falls came in the first period.
"You're not going to win a dual meet when you give up six pins," said Ankeny coach Jack Wignall. "That's one of the things we talked about in the locker room, and the guys are going to have to figure that part out. We work on fighting off our backs in some of those positions and to just be hanging there is unacceptable."
Centennial took the lead for good, 21-17, when Ayres pinned Daniel Rose in 3:10. Vaughan then followed with another fall over Nick Scherle in 1:36.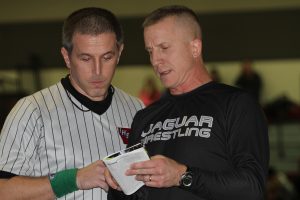 "Those two guys both hit real nice moves and put them on their back and sealed the deal," Groth said. "We've been preaching all year or at least for the last month that if you get a kid on their back, they can't get back off. You've got to finish the job, and they did today. So that was good."
Ankeny won six matches, but had only two falls–one by Sam Kallem at 126 and another by Luke Sable at 170. Seventh-ranked Killyan Green recorded a technical fall at 138.
The Hawks also got a huge win from eighth-ranked Derek Anderson, who posted a 6-4 decision over the sixth-ranked Monroe at 120. Anderson trailed, 4-3, before getting a three-point near fall in the final 30 seconds.
"I know I'm good on top, but Ben is good on the bottom and he's a great competitor," Anderson said. "But I was confident going into the third period."
Anderson defeated Monroe for the second time in six days. He captured a title at the Bob Sharp tournament with a 3-2 victory.
"It was a big confidence-booster, for sure," Anderson said of Saturday's win. "I just stuck to my shots. He got in on me a couple of times, but I just kept battling."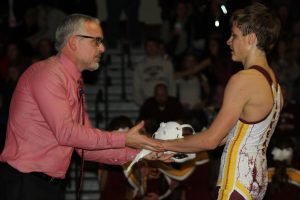 Both Ankeny and Centennial will compete in the Dave Ewing Duals on Saturday at Ankeny. The two teams will be in separate pools, but could meet later in the bracket rounds.
"We're trying to stay focused on the big picture, which is not today or Saturday," Groth said. "It's in about three weeks at districts and then the following week at state. We didn't want to make something too big of a goal and then you reach that goal and then everything is downhill from there. We need to peak in a couple of weeks and not today."
Wignall said the Hawks are taking a similar approach.
"This was one dual meet, and of course when it's your crosstown rival, you always want to win that meet," he said. "But you know I always tell my kids, 'I want to win every dual meet that we're in. I want to win every tournament that we're in.' This was just the next one on the schedule, so we'll lick our wounds and come back Saturday and go from there."
Here are the match-by-match results:
Centennial 43, Ankeny 25
285–McClaskey (AC) pinned Gray, :35; 106–Cox (A) beat Carter, 7-3; 113–Blubaugh (AC) pinned Fnu, 1:36; 120–D. Anderson (A) beat Monroe, 6-4; 126–Kallem (A) pinned Cuppy, 2:25; 132–Owens (AC) beat S. Anderson, 9-4; 138–Green (A) won by technical fall over Nessler, 21-6; 145–Ayres (AC) pinned Rose, 3:10; 152–Vaughan (AC) pinned Scherle, 1:36; 160–Neils (AC) beat Martin, 11-2; 170–Sable (A) pinned Morgan, :48; 182–Honderd (AC) pinned Goldner, 1:31; 195–Stober (AC) pinned Co. Rathjen, 1:29; 220–Beardsley (A) beat Frazier, 3-2.