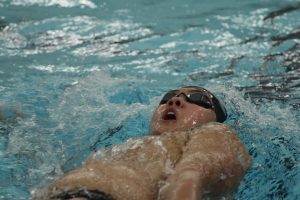 The Ankeny boys' swimming squad entered Thursday's dual meet against visiting Valley as the No. 2 team in the state, one spot ahead of the Tigers.
By the end of the night, Valley had leapfrogged both Ankeny and top-ranked Ames to become the state's No. 1 team. The Tigers racked up 1,631 power points while posting an 87-83 victory in a CIML Central Conference dual meet at Trail Point Aquatics Center.
"I wanted to challenge my swimmers tonight," said Ankeny coach Justin Crouch. "As a coach, you don't want your athletes to get too complacent. I knew this dual meet was a major challenge, but it wasn't a meet that would define our season. I saw it as an opportunity to race and see where we stood against strong competition. We didn't back down and the boys raced extremely hard, but in the end it wasn't enough to beat a quality team."
The 50 freestyle featured two of the state's top three swimmers in that event. Valley's Jacob Keller won the race, while Ankeny's Max Martin took second in 21.71 seconds.
Martin, who is ranked third, nearly matched his season-best time of 21.69.
"Some positive takeaways were that I saw a lot of camaraderie among teammates," Crouch said. "As well as facing a challenge head on and not backing down. The key is to use this as a tool to get better. Like I said this meet doesn't define our season, but it does demonstrate where we are strong and where we have opportunities to improve."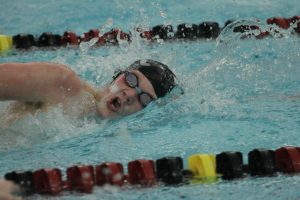 Valley opened the meet with a victory in the 200 medley relay. Ankeny answered with wins by Trent Frandson in the 200 freestyle (1:47.89) and Connor Neils in the 200 individual medley (2:04.17), but Keller then captured the 50 freestyle for the Tigers.
The meet was close the rest of the way, but Valley eventually emerged with the narrow win. The loss dropped the Hawks' records to 2-2 in the conference and 7-2 overall.
"To be honest, I feel like in this loss we learned more about ourselves and how we are coming together as a team," Crouch said. "I feel this will drive us into a successful final three weeks of the season."
Both Ankeny and Valley will be back in action on Saturday in the conference meet at Southeast Polk. With Ames and Waukee also in the field, four of the state's top five teams will be gunning for the league title.