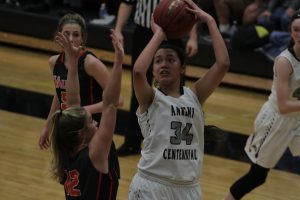 Ankeny Centennial's Chloe Olson spends most of her time in the summer on the softball field, hitting long home runs for the Jaguars.
In the winter, her strength carries over to the basketball court.
The senior post player scored a career-high 19 points and grabbed 13 rebounds to lead the eighth-ranked Jaguars to a 63-57 victory over No. 15 Valley on Friday at Centennial.
"We had a mismatch inside, and I was proud of the way our kids pounded the ball inside the whole game," said Centennial coach Scott DeJong. "I thought Chloe put us on her back, especially on the boards."
Olson helped Centennial rally from a 26-22 halftime deficit. The Jaguars defeated Valley, the defending Class 5A state champion, for the second time this season.
"We knew it was going to be like this because they wanted revenge on us, but we came into the locker room at halftime and recuperated," Olson said. "Then we came out in the second half and took it to them."
Centennial grabbed a 42-39 lead after three quarters, then went on a 7-0 run in the final period to build a 51-41 advantage. Olson scored the Jaguars' final basket of the game to complete the run.
"That was our plan the whole time, pound it inside and then if they double team us, throw it back out," Olson said.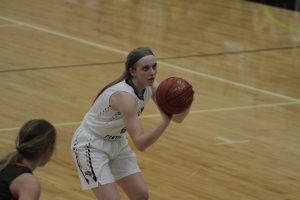 Centennial sealed the victory at the free-throw line, making 14-of-18 attempts in the fourth quarter. The Jaguars went 28-of-35 at the line overall.
Taylor Runchey made 7-of-8 free throws in the fourth quarter and tied her career-high with 13 points.
"We work on free throws a lot in practice and really focus on those so when we go up there at the end of the game, it's sort of routine," Runchey said.
Sydney Wycoff scored 12 points and Rachel Schon added 10 for Centennial, which remained in a first-place tie with No. 9 Waukee in the CIML Central Conference. The Jaguars are now 6-1 in the league and 12-3 overall.
"We got off to a slow start, and it was kind of an uphill battle," DeJong said. "But I thought we just kept playing better, and we were able to get them into foul trouble."
Zoe Young poured in a game-high 26 points to lead Valley, which dropped to 1-6 in the conference and 7-9 overall. The Maryland recruit had 15 of her team's 26 points in the first half.
"Valley's a really good team," Runchey said. "I think it just shows how good our conference is, because they've played a lot of teams close. Their record doesn't really show how good they are."
Young, a junior guard, has played on some AAU teams along with Centennial players Keanna Williams and Wycoff.
"Always fun competing against some girls I've played with and against for a long time," Young tweeted after the game.