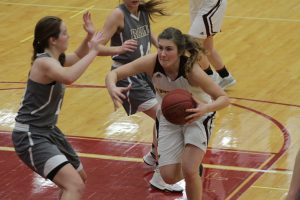 The Ankeny girls' basketball team couldn't find a way to solve Southeast Polk's zone defense.
The 14th-ranked Hawkettes made just five baskets in the first half while falling behind, 33-17, and went on to suffer a 64-38 loss Friday on their home court.
It was the fifth consecutive victory for No. 7 Southeast Polk, which improved to 5-2 in the CIML Central Conference and 13-2 overall. Ankeny's records dropped to 2-5 and 7-8.
"We didn't come out and attack like we have been doing the last couple of weeks," said Ankeny coach Dru McAnelly. "We played a little tentative, but that's a credit to Southeast Polk–they got after us pretty good. And when we did attack or kick it out, we weren't hitting open shots and it was just a domino effect."
The Rams took control of the game right away, scoring the first five points. They later went on an 18-4 run to build a commanding 25-8 lead.
Freshman Grace Larkins sparked Southeast Polk by pouring in 13 points in the first half.
"We didn't rotate or close out well in our zone defense, and we struggled to stop dribble penetration all night," McAnelly said. "They're an athletic team that can put it on the floor and really attack the basket. That's the reason we didn't start out in (a man-to-man defense). They posed a couple of bad matchups for us, but we had to do something at that point and that's why we switched to man at the half."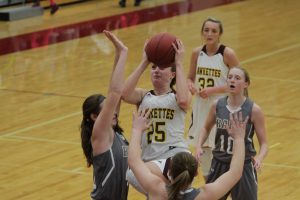 Ankeny's leading scorer, Sara McCullough, was held to four points in the first half. Holly Trimble made a 3-point goal late in the second quarter, then Sydney Shadravan and Kayla Pitz both connected from behind the arc early in the third quarter.
But the Hawkettes were unable to sustain their momentum.
"We thought we had a pretty good game plan, so we didn't change much," McAnelly said. "But Southeast Polk was just too good."
The win allowed the Rams to sweep the season series. They also posted a 65-57 victory on Dec. 15.