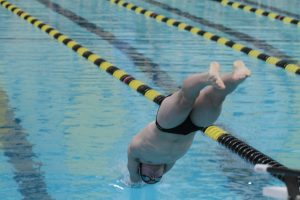 Saturday's CIML Central Conference boys' swimming meet was like a mini-state meet.
Four of the state's top five teams were in action at Southeast Polk, including third-ranked Ankeny, which placed third in the five-team field with 445.5 points. The Hawks were led by freshman Trent Frandson, who won both the 200 and 500 freestyle events.
No. 2 Ames won the meet with 530 points, while No. 1 Valley took second with 465. No. 5 Waukee, the defending champion, finished fourth with 407 points.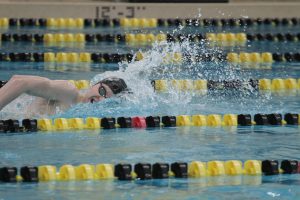 Frandson enjoyed an outstanding day for the Hawks. He won the 200 freestyle in a time of 1:46.19.
Frandson later captured the 500 freestyle in 4:51.53 as Ankeny took three of the top four places. Brek Stukerjurgen was the runner-up in 4:59.62, and Noah Westercamp placed fourth in 5:06.39.
The Hawks were tied with Valley for second place after seven events before the Tigers edged Ankeny by .06 seconds to win the 200 freestyle relay. The team of Max Martin, Adam Vaske, Connor Neils and Frandson was clocked in 1:29.48.
Ankeny then closed within a point of the Tigers by going 3-5-6 in the 100 backstroke. Stukerjurgen placed third in 56.16 seconds, followed by Neils (56.58) and Westercamp (57.51).
However, that was as close as the Hawks could get to Valley. Mason Keinroth placed fourth for Ankeny in the 100 breaststroke (1:05.69), and the Hawks then ended the meet with a third-place finish in the 400 freestyle relay.
Martin swam on all three of Ankeny's relays. He teamed up with Westercamp, Keinroth and Neils for a third-place finish in the 200 medley relay (1:41.69).
Vaske placed third in the 100 freestyle (49.45) and fourth in the 200 freestyle (1:52.33). Neils took fourth in the 200 individual medley (2:05.12), one spot ahead of Keinroth (2:07.11).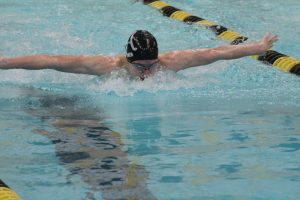 Martin placed fourth in the 50 freestyle in 22.50. Weston Miner was fifth in the 100 butterfly in 57.77.
Ames won six of the 11 events. Valley captured three events.