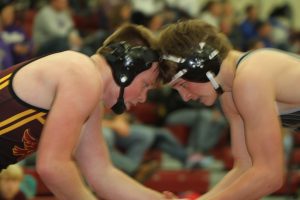 The emotions ran high during the Dave Ewing Duals on Saturday at Ankeny High School.
The host Hawks collided with crosstown rival Ankeny Centennial for the second time in three days–this time in the fourth round of the eight-team tournament. The rematch of the Jaguars' 43-25 victory on Thursday nearly ended with a brawl.
Ankeny's Spencer Anderson recorded a fall over Reece Nessler at 132 pounds to give the Hawks a 32-27 lead, but the two wrestlers had to be separated after the match. Centennial coach Jay Groth, who was sitting at an adjacent mat, came running over to help hold Nessler back.
"It got a little bit heated, which is unfortunate because it was a really good dual meet," Groth said. "Both teams wanted to win, and I thought both teams put out a better product than they did the last time. It came down to the last match, and then that kind of got overshadowed by a little ugliness at 132. So that's unfortunate, but we'll put it behind us and move on."
Both Anderson and Nessler were penalized for misconduct, which resulted in both squads losing a team point.
"It was a mental lapse on our part," said Ankeny coach Jack Wignall. "We need to keep our head there. If we do that, then we end up winning the meet on criteria."
Centennial eventually prevailed, 32-31, when Eric Owens pinned Joey Reichenbacker in the final match at 138. Owens was in the process of getting the fall when Anderson's pin led to the fracas on a nearby mat.
"I knew we were down by five (points) and I needed to get a pin to get the six so I just went in with the headlock and got him," Owens said. "I was at state last year and I had a lot of pressure on me because everybody was watching me. So I was pretty comfortable being in that position."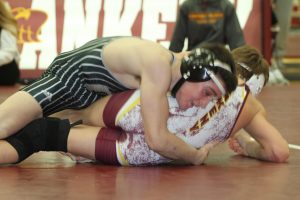 Centennial won eight of the 14 matches, getting huge victories from sixth-ranked Ben Monroe at 120 and Ethan Frazier at 220. Monroe posted a 9-2 decision over eighth-ranked Derek Anderson to avenge two losses in the last week.
"I was just wrestling," Monroe said. "That's it."
Frazier got a takedown in overtime to post a 3-1 decision over Tate Beardsley. He had lost to Beardsley, 3-2, during Thursday's dual meet.
"That was huge for us," Groth said. "Ethan really was an impact wrestler for us today."
The Jaguars went 4-1 on the day and placed second in the tournament. Their only loss came to eventual champion New Hampton, which is No. 1 in the Class 2A dual rankings.
Centennial (20-6) also posted wins over Marshalltown, Ottumwa and Sioux City North. The Jaguars broke the school record for most wins in a season, which had been 16.
"That was one of the things we wanted to do this season," Groth said. "I thought we started a little flat. Thursday was a big meet, and we were pretty sure we'd end up wrestling Ankeny again. So I think we were looking ahead a little bit."
Owens went 5-0 on the day while wrestling at 132 and 138. Fifth-ranked Logan Neils also went 5-0 at 160.
"We were all psyched up for Thursday," Owens said. "I think we were a little tired today."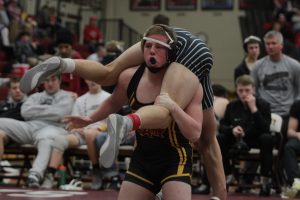 Ankeny rolled to victories over Spencer, Bondurant-Farrar and Sioux City North to win its pool. The Hawks then lost to Centennial and New Hampton to finish the tournament with a 3-2 mark.
"I'm happy with the way our kids are wrestling," said Wignall, whose team is now 8-8 on the season. "But we've got to take it up a notch if we want to get over the hump."
Ankeny heavyweight Romello Gray had a perfect 5-0 day. He pinned Centennial's Riley McClaskey to reverse the outcome from Thursday's meet.
"Mello had a great day," Wignall said. "He did everything we asked him to do. He wrestled really well."