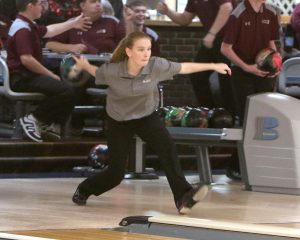 For the second meet in a row, the Ankeny girls' bowling team posted a season-high score on Tuesday at Great Escape.
The Hawkettes rolled to a 2,644-2,049 victory over visiting Dowling Catholic in a CIML non-conference meet. They raised their record to 4-3 on the season.
The Ankeny girls' team even outscored the Ankeny boys' squad, which also came away with a victory. The Hawks topped Dowling by a score of 2,616-2,509 to improve their mark to 2-5.
"We are coming together nicely as a combined team at just the right time in the season," said Ankeny coach Jim Robidoux.
Sydney Sears led the Hawkettes with a 430 series. She now ranks eighth in the state among all girls with a 203.2 game average.
Isabel Tetmeyer was right behind Sears with a 425 series, her highest of the season. Christina Angran bowled a 341, Emma Harris had a 295, Zoe Baker bowled a 291, and Cynthia Angran added a 285.
"The girls are crushing it–they bowled 28 pins over average for individuals and 20 pins over average on Baker games," Robidoux said. "Sydney and Isabel continue to lead off and clean up with amazing results. All of the varsity girls bowled well over their averages."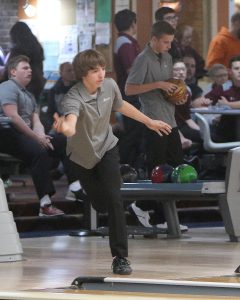 The Hawks, meanwhile, erased a 52-pin deficit to beat a Dowling squad that entered the meet with a 4-5 record. Bryce Follett bowled a 199 in his second game and finished with a 359 series to lead the way.
Brandon Schumacher rolled a 356, James Cole had a 351, Collin Runyan bowled a 339, Mason Thompson had a 318, and Jeff Carothers added a 317.
"Bryce showed great confidence picking up the 7 pin, while James came through as well in the clutch nailing the 10 pin in both individual and Baker games," Robidoux said. "Our boys rose to the challenge and bowled over average in every Baker game for the first time this season. And, we pulled off the victory without our No. 1 average bowler Gage Payton, who is fighting a fever.
"This was a great team effort," he added.