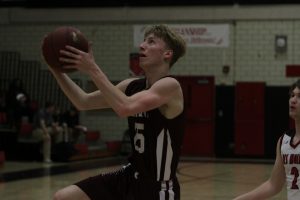 If the Ankeny boys' basketball team wants to qualify for the Class 4A state tournament, the Hawks are going to have to win three consecutive games during postseason play.
Now they know they're capable of doing just that.
Ankeny built a 30-17 halftime lead and rolled to a 67-51 victory at Des Moines East in a CIML non-conference game on Tuesday. It was the third straight win for the Hawks, who improved to 4-10 on the season.
"It feels good," said senior forward Ben Lyon, who scored all 12 of his points in the second half. "We're talking about peaking at the right time and you've got to get three wins to go to the Well, and that's obviously our goal. It feels good to know what it feels like to get those three wins back-to-back-to-back. We're jelling pretty well right now."
Jaxon Smith poured in 19 points and Dillon Carlson added 14 for the Hawks, who kept East (0-14) winless on the season. All but two of the Scarlets' losses have come by double digits.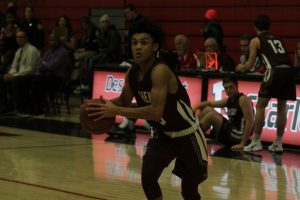 Ankeny coach Brandt Carlson was pleased with his team's defensive effort. The Hawks jumped out to an early 7-0 lead and allowed only two baskets inside the arc in the first half.
"Our guys are working hard and doing a good job," Carlson said. "For us, it's about staying in position and just working together and (having) more communication. We're getting better, and obviously tonight we played an East team that has struggled a little offensively, and that helps. But overall, we're getting better (defensively)."
Smith had six points in the first quarter and Jordan Kumm added five as Ankeny took a 13-7 lead. Carlson then ended the period with a 3-pointer from just inside the half-court line–he picked up a loose ball, turned and heaved a prayer that banked in as time expired.
"We've been focused all week in practice," Lyon said. "Coach said that this was a game that could be really tough. We didn't know how good the crowd factor was going to be, so we really had to step up our mindset throughout the week of practice."
In the second half, Ankeny picked up the pace offensively, scoring several times on fast-break layups. Many of the Hawks' points immediately followed an East basket, preventing the Scarlets from rallying.
"We're trying to get the guys to run a little harder," Carlson said. "That's our goal, to play with a little more pace offensively. We just need to rebound better in order for us to run."