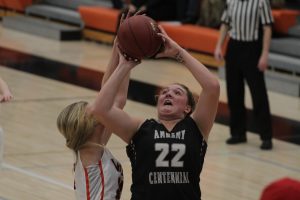 One of the state's best girls' basketball players scored 25 points on Tuesday in a game against Ankeny Centennial.
It still wasn't nearly enough.
The eighth-ranked Jaguars traveled to Mason City for a CIML non-conference contest and came away with a 59-40 victory over the Mohawks, who are ranked seventh in Class 4A.
Centennial relied on a balanced attack to overcome a 25-point night by Megan Meyer, who had 16 of her points in the second half.
"I thought we did a great job on (Meyer)," said Centennial coach Scott DeJong. "She only had nine at halftime, and by then we had a 22-point lead."
Centennial outscored the Mohawks in the second quarter, 21-5, to build a 37-15 advantage. The Jaguars (13-3) then used a 10-0 run in the fourth quarter to seal their fourth straight victory after Mason City closed the gap to 10 points.
The loss ended a three-game winning streak for the Mohawks, who fell to 9-8 on the season.
"We had a couple of good runs the second quarter and really bumped the lead up," DeJong said. "It was a really good win against a really good team. We're very happy to get out of there with a win."
Chloe Olson scored 15 points and grabbed 17 rebounds to lead the Jaguars. Rachel Schon also had 15 points.
Meg Burns, Alexandria Keahna-Harris and Sydney Wycoff each added eight points.
"We had four different players make a 3-pointer tonight," DeJong said. "We've made a concerted effort to pound the ball inside because we feel like we have a mismatch in there, but if they pack it in we're not afraid to shoot the 3. We feel like we've got pretty good balance and versatility this year."
Hannah Faktor had seven points for Mason City, which is still seeking a second scorer to take some of the pressure off of Meyer, who averages nearly 26 points per game. The Mohawks went just 3-for-25 from behind the arc during Tuesday's loss.
"Defensively we worked so hard," Mohawks coach Curt Klaahsen told the Mason City Globe Gazette. "Ultimately, the shots not falling affected our defense."