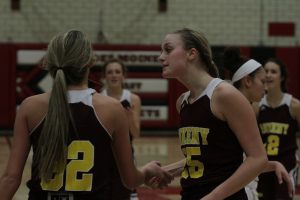 The Ankeny girls' basketball team didn't spend much time preparing for Tuesday's opponent.
Ankeny coach Dru McAnelly wanted his players to focus on themselves after losing five of their previous six games.
It paid off with a 67-58 victory at Des Moines East in a CIML non-conference game.
"I actually spent the least amount of time on our opponent because our focus was us," McAnelly said. "We just wanted to get ourselves right leading into the stretch run of the season. I thought our girls did a great job of coming out and being ready to go, but what I was most proud of was that when adversity struck, we didn't put our heads down. We kept battling, and we got contributions from everybody who played."
Sara McCullough had 20 points and 11 rebounds as the Hawkettes evened their record at 8-8 heading into Friday's crosstown showdown at Ankeny Centennial. Kayla Pitz went 3-for-3 from 3-point range and added 13 points.
Pitz, a sophomore point guard, also played a key role against East's full-court press. She didn't wilt under the Scarlets' relentless pressure.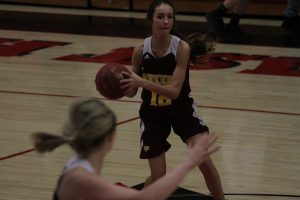 "This whole year we've been working on getting the ball up the court without any turnovers," Pitz said. "It paid off a lot tonight."
Sydney Shadravan had 12 points, eight rebounds and two blocks in the win. Holly Trimble contributed nine points, Jaelynn Kueker had seven points and seven rebounds, and Meghan Trimble added six points, three assists and two steals.
"Shadravan was huge, and Pitzy came up big," McAnelly said. "Before I even said anything in the locker room (after the game), I went around and slapped every girl's hand because it was just a total team effort. That's why this is so satisfying."
There were six lead changes in a first half that ended with East (9-7) holding a 27-25 advantage. McCullough then scored eight points as Ankeny opened the third quarter with a 19-7 run to take a 44-34 lead.
McCullough had a pair of 3-pointers during the run. Pitz capped the flurry with another 3-pointer.
"It was all about us," Pitz said. "We just needed to focus on our game."
The Scarlets, who had won seven of their previous eight games, closed the gap to 45-42 after three quarters. But Ankeny refused to panic.
Pitz opened the fourth quarter with a 3-pointer, then Holly Trimble hit another one to give the Hawkettes some breathing room.
"That was the turning point in the game," Pitz said. "It felt good to hit a shot."
Ankeny eventually sealed the win at the charity stripe. The Hawkettes made 12 of 18 free throws in the final period.