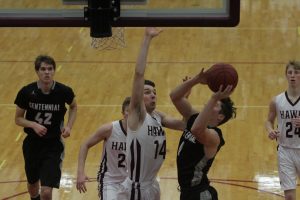 If Friday's basketball doubleheader at Ankeny Centennial is as entertaining as last month's rivalry games at Ankeny, then fans of the Hawks and Jaguars will be in for a treat.
Both the girls' and boys' games came down to the last possession on Dec. 21, when Centennial posted a pair of narrow wins. The Jaguars escaped with a 43-41 victory in the opener as Sydney Wycoff made a layup at the buzzer, then Hunter Strait scored the last four points of the game to give the Centennial boys' squad a 55-52 triumph in the nightcap.
Friday's contests are important for all four teams for a variety of reasons.
"There's no doubt (we have the confidence to play with them)," said Ankeny boys' coach Brandt Carlson. "We won there last year, which was a great feeling. It's a fun rivalry game that we just really enjoy playing, but we respect those guys a ton. We know we're going to have to play great to win, but our guys are just looking forward to it."
The Centennial boys' team (5-2, 10-4) needs a victory to keep pace with Waukee atop the CIML Central Conference standings. The Warriors host Southeast Polk, a team they already defeated by 31 points, on Friday.
The Jaguars rallied from an early 17-10 deficit to win the first meeting at Ankeny. Zach Kluver scored a career-high 20 points to lead the way, while Strait finished with 13.
Jaxon Smith had 13 points for the Hawks, who can tie the all-time series with Centennial at 5-5 with a win.
"They're a team that can beat anybody on their schedule," Centennial coach Bob Fontana said of the Hawks. "They've got some good young players and a couple of senior leaders. We know they're going to give us their best shot, so we need to make sure that we're on top of our game."
Ankeny (1-6, 4-10) is currently on a three-game winning streak. The Hawks rolled to a 67-51 victory at Des Moines East on Tuesday.
"Our guys have always had a good attitude," Carlson said. "But I think they see more confidence in their teammates now."
Fontana said Ankeny's record is deceiving. The Hawks have lost six games by five points or less, three of them in overtime.
The Ankeny players are hoping to avenge one of those losses on Friday.
"We're looking for a little payback," said senior forward Ben Lyon. "I'll just leave it at that."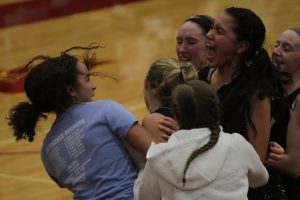 The Ankeny girls' team, meanwhile, will be seeking its first win ever against Centennial. The seventh-ranked Jaguars have won all nine meetings in the series, seven of them by double digits.
Centennial (6-1, 13-3) is tied with No. 8 Waukee for the Central Conference lead. No. 5 Southeast Polk (5-2) is a game out of first place and will visit Waukee on Friday, looking to avenge an earlier one-point loss.
"Obviously, it's a big game for both of us…a big conference game, a big game for seeding purposes (in regional play) and a big rivalry game," said Centennial girls' coach Scott DeJong. "We have a lot of respect for them. Ankeny has had a great season, they're vastly improved, and they have a girl (in Sara McCullough) who is a Division I player going to UNI, so they have a lot to build around."
No. 15 Ankeny (2-5, 8-8) is coming off a 67-58 victory at Des Moines East that snapped a two-game losing skid.
"We have 100 percent confidence that we can beat them," said Ankeny guard Kayla Pitz. "We were so close the last time, so we know we can do it. It was right there."
McCullough scored 14 points in the first game against Centennial. She made a 3-point goal with about 7 seconds left to tie the score at 41, but Wycoff then took the ensuing inbounds pass, drove the length of the court and sliced between two Ankeny defenders for the game-winning basket as time expired.
Wycoff, who finished with 12 points, has taken over a leadership role for the Jaguars along with senior forward Chloe Olson. Olson has racked up 61 points and 46 rebounds during the team's current four-game winning streak.
Centennial has also been strengthened by the recent return of injured players Keanna Williams, Rachel Schon and Alexandria Keahna-Harris. Schon and Williams did not play in the first game against the Hawkettes.
"They're a little more healthy now so their personnel has changed a bit, but coach DeJong and his program speaks for itself," Ankeny coach Dru McAnelly said of the Jaguars. "They're a phenomenal team. We'll have our work cut out for us, but I believe mentally we believe we can play with them. That's been half the battle since the split (into two high schools)."
Tip-off for the girls' game is at 6:15 p.m., with the boys' game to follow.