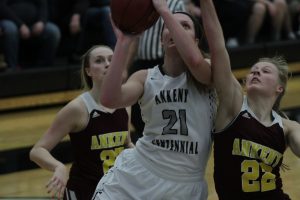 The Ankeny girls' basketball team used a strong defensive effort to build a 16-13 halftime lead at Ankeny Centennial on Friday.
In the second half, the Jaguars' defense was even better.
Seventh-ranked Centennial held the No. 15 Hawkettes to just five points in the final two quarters while pulling away for a 39-21 victory. The Jaguars improved their all-time record against Ankeny to 10-0.
"It's nice to beat them again, especially being a senior," said Centennial guard Sydney Wycoff. "That's what you want."
Wycoff and Rachel Schon each scored 11 points as Centennial remained in a first-place tie with No. 8 Waukee in the CIML Central Conference. The Jaguars are now 7-1 in the league and 14-3 overall, while Ankeny's records dropped to 2-6 and 8-9.
"It felt great to get the win," said Schon. "It's always fun playing our crosstown rivals."
Jaelynn Kueker scored seven points to lead Ankeny, all of them in the first half. Sara McCullough, the Hawkettes' leading scorer with a 16.7 average, was held to a season-low four points.
McCullough's only basket came with 4 minutes 46 seconds left to play. Those were Ankeny's final points of the game.
"Some things didn't go our way offensively, but when you hold a top-eight team to under 40 points on their court with a great atmosphere, you're always giving yourself a chance to win," said Ankeny coach Dru McAnelly, whose team dropped a 43-41 decision to the Jaguars last month. "Credit goes to Centennial–they got after us a little bit defensively, but at times we executed pretty well. The ball just didn't fall our way."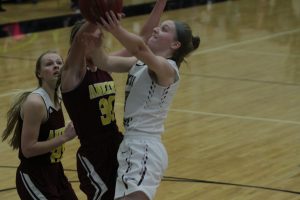 Centennial took control of the game with an 11-0 run to open the third quarter. The Jaguars took the lead for good, 19-16, on a 3-point goal by Taylor Runchey.
"We know the third quarter is our quarter," Wycoff said. "We've been down before, so we know how to fight back and dig really deep."
Chloe Olson had five points in the run after sitting out most of the first half with two fouls.
"We were hoping we could get Chloe back in the game," said Centennial coach Scott DeJong. "The second foul on her obviously didn't help, but I thought she was a difference-maker in the second half. We adjusted our offense a little bit, and we just played better."
Meg Burns had a pair of 3-pointers during the Jaguars' rally. Schon helped seal the victory by scoring seven points in the fourth quarter.
"We all just kind of looked at each other at halftime and were like, 'You know, we can play better than this,'" Schon said. "We rallied, we encouraged each other, and we came out strong. I was really proud of our team and the confidence we had and the way we worked together."
Centennial jumped out to an 11-6 lead in the first quarter. Wycoff had nine of those points on a trio of 3-pointers against Ankeny's zone defense.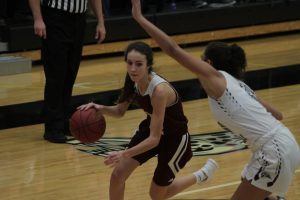 However, the Hawkettes then dominated the second quarter. Kueker had five points in the period, including a 3-pointer, and also played a huge role in the middle of her team's zone.
"I thought Jaelynn's energy and the way she was playing at both ends of the court were carrying us," McAnelly said.
Centennial went scoreless for the last 6 minutes of the half.
"They're long and athletic," DeJong said of the Hawkettes. "When you're sitting back in a zone and able to do that, that makes it pretty good. Ankeny's got a really good team, and one of the reasons is their defense."
Kueker said the Hawkettes are close to becoming a very good team.
"Our defense is really strong," she said. "We just need to keep working on our offense and once we get there, we'll get some wins."