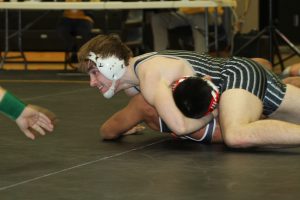 Logan Neils made some history on Friday in the CIML Invitational at Southeast Polk.
The 160-pound sophomore became the first Ankeny Centennial wrestler in the school's brief history to capture an individual conference title. After pinning his first three opponents, the fifth-ranked Neils posted a 3-0 decision over seventh-ranked Levi Egli of Fort Dodge in the finals.
"He wrestled a good match against a good kid," Centennial coach Jay Groth said of Neils. "It was nice to see him come out on top. We've had a few other finalists in the past, but Logan is the first one to win."
Neils, who raised his record to 28-5 on the season, led Centennial to a fifth-place finish in the 17-team field. The Jaguars scored 152.5 points, finishing just ahead of sixth-ranked Johnston.
"I thought most of our guys wrestled pretty well," Groth said. "We wrestled to or above our seed at about every weight and we got points from 12 of the 14 guys, so I was pretty pleased with their performance. We wrestled much better than we did on Tuesday (in a loss at Valley)."
Ankeny, meanwhile, finished eighth with 89 points. The Hawks–who were already without second-ranked 113-pounder Caleb Rathjen due to an injury–competed on Friday without Killyan Green, who is ranked seventh at 138.
Green missed the tournament due to a skin ailment.
"It's a heck of a tournament, and unfortunately we didn't have all of our guys," said Ankeny coach Jack Wignall. "It's just crazy how good wrestling in central Iowa is, from the individuals to the powerhouse teams."
No. 1 Fort Dodge easily won the tournament, finishing 47.5 points ahead of No. 2 Southeast Polk. The Rams had won the title in each of the previous seven seasons.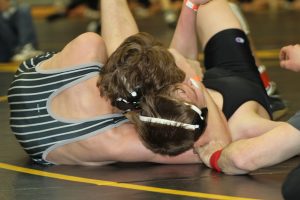 Centennial got third-place finishes from sixth-ranked Ben Monroe at 120 and Noah Stober at 195. Monroe posted a 13-3 major decision over eighth-ranked Derek Anderson of Ankeny in the third-place match, allowing him to tie their season series at 2-2.
Placing fourth for the Jaguars were Nic Leo at 170 and fifth-ranked Colin Honderd at 182. Honderd was pinned in the semifinals by top-ranked Joel Shapiro of Valley, the eventual champion.
Leo rolled to a 17-8 major decision over seventh-ranked Kaden Smith of Fort Dodge in the quarterfinals. He then dropped a 7-1 decision to third-ranked Anthony Zach of Waukee, who went on to win the crown.
Tenth-ranked Noah Blubaugh at 113 and Alan Ayres at 145 each placed fifth. Eric Owens at 132, Lane Pruisner at 220 and Ryan Brennecke at 285 each finished sixth.
Leo and Pruisner both returned to action after recovering from injuries. Brennecke filled in at heavyweight for Riley McClaskey, who was out with the flu.
"We're pretty close to having our whole lineup back together," Groth said. "Riley couldn't go, but Brennecke replaced him and had a good tournament."
Ankeny got fourth-place finishes from Anderson and Cael Cox at 106. They both lost to top-ranked foes in the semifinals, Kyle Biscoglia of Waukee and Cullan Schriever of Mason City.
Sam Kallem at 126 and Cole Rathjen at 195 each placed fifth for the Hawks. Rathjen was pinned by Tom Derry of Dowling Catholic in the opening round, but then rebounded to win his next four matches.
Rathjen avenged an earlier loss to Waukee's Jared Johnson in the consolation semifinals. He then pinned Derry in 1 minute 11 seconds in the fifth-place match.
"Cole probably wrestled the best of all our guys," Wignall said.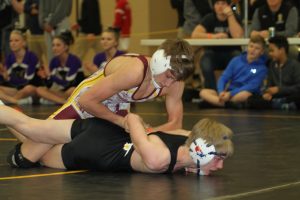 Anderson Martin at 160 and Luke Sable at 170 each placed seventh for Ankeny. Heavyweight Romello Gray finished eighth.
Wignall said the Hawks didn't rise to the level of the competition.
"I think there's an intimidation factor for our kids," he said. "They see the bracket and who is seeded, and they get intimidated by the strength of the tournament. One of the things that we need to work on is our mental toughness."
Here are the final team scores: 1. Fort Dodge 243.5; 2. Southeast Polk 196; 3. Valley 186.5; 4. Waukee 180; 5. Ankeny Centennial 152.5; 6. Johnston 145; 7. D.M. East 95.5; 8. Ankeny 89; 9. Mason City 82; 10. Marshalltown 67; 11. Dowling Catholic 63.5; 12. D.M. Lincoln 55; 13. Urbandale 48; 14. Ottumwa 36.5; 15. D.M. North-Hoover 29; 16. Ames 17; 17. D.M. Roosevelt 8.5.