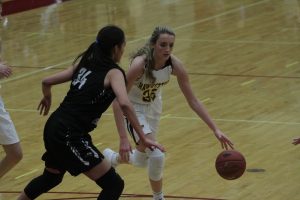 Sydney Shadravan is the Ankeny Fanatic prep of the week sponsored by Revive Clinic and Spa. The senior forward has helped the 15th-ranked Ankeny girls' basketball team to an 8-9 record.
Shadravan is averaging 7.0 points and 5.9 rebounds per game. She is shooting 38.1 percent from 3-point range, having made 16 of 42 attempts from behind the arc.
Here is some inside info on Shadravan:
How is the season going thus far?
I think overall the season is going pretty well. We've had some really good wins so far, but obviously there were a few close games that just didn't go our way. The team has made really great progress, and it has been very rewarding to see some of the underclassmen contribute on varsity this year. With the level of young talent we have, I'm confident the next few years will be very successful ones for Ankeny.
What has been the highlight for you?
There have been many positives in our season so far! I think that getting a few conference wins against some really good teams that we haven't beaten in a while (Ames, Valley) has been one of the biggest highlights so far.
What did you think of your team's performance in Friday's 39-21 loss at Ankeny Centennial?
I think we played really well in the first half. We played great defense, and that helped us take the lead. We struggled with our shooting in the second half, and I think that affected our defensive mentality.
Your team got off to a 6-3 start before losing five of its next six games. Why do you think the team has struggled in the last few weeks?
We got off to a great start, but in the middle of our season we had a stretch where we played several of the best teams in our conference. Some of those games were close and could have gone either way, but they were some very talented teams that put up a tough challenge.
What is it going to take to turn your season around?
There have been short periods of time in some of our games where we have let up and not played as hard as we do the rest of the game. This has given the other team a chance to pull ahead and then we are stuck trying to get back into the game. If we want to win against some of the more challenging teams, we will have to play hard the entire game.
Your team will host Waukee in its final regular-season home game on Friday. Is it hard to believe that your high school career is almost over?
It is really hard to believe that my high school basketball career is almost over. I have certainly had my ups and downs in my high school career, but overall I've enjoyed the experience and learned a lot, and I'm excited for what's to come next year!
The Class 5A regional assignments are expected to be announced this week. Do you think your team can make some noise in postseason play?
I definitely think we have an opportunity for success in the postseason. We have proven this season that when we play to our potential we can play with any team in the state. If we play to our ability then I think we are very capable of upsetting some teams in postseason play.
Would you like another shot at one of the CIML's top teams, perhaps a third meeting against Centennial?
I would like another shot at playing one of the CIML's top teams, especially Centennial! It would be really rewarding to get a win against them before my high school career is done.
Your sister, Hannah, is a member of the Grand View University women's basketball team. Have you had a chance to see some of her games this season?
Yes, I have been able to make it to a few of her games this year. I really enjoy watching her games, and she has improved greatly as a player in college!
Have you thought about following in her footsteps? Do you want to play basketball at the next level?
Yes, I am strongly considering joining her on the team at Grand View! (She committed to the Vikings on Monday.)
What do you want to study in college?
I am planning on studying biochemistry.