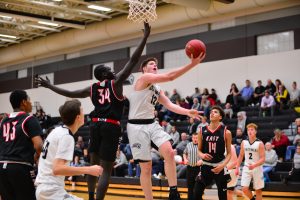 The Ankeny Centennial boys' basketball players were anxious to put Friday's loss to Ankeny behind them.
The Jaguars found a good opponent in Des Moines East to do just that.
Centennial jumped out to an early 10-0 lead, built a 19-point halftime advantage and rolled to a 77-33 victory over the visiting Scarlets in a CIML non-conference game on Tuesday.
"We were able to substitute freely and get everyone into the game," said Centennial coach Bob Fontana. "Nobody played more than 20 minutes."
While the Jaguars raised their record to 11-5 on the season, East dropped to 0-16. The Scarlets have lost their last 12 games by double digits, although they led for awhile on Friday before dropping a 48-37 decision at Des Moines Roosevelt.
"East just played a heckuva game," Fontana said. "They've got about three or four young kids who are going to be nice players. They're just inexperienced right now."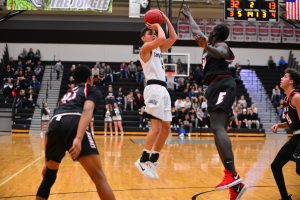 Hunter Strait led Centennial with 17 points, including four of the team's 10 3-point goals. He also had four assists and five steals.
Micah Johnson chipped in 12 points, while Preston Kelling added nine on 3-of-4 shooting from behind the arc. Kelling started in place of senior forward Zach Kluver, who did not play.
Lathan Brandt also scored nine points for the Jaguars. Jackson Brannan dished out five assists.
Centennial will travel to Ames on Friday for the first of four consecutive road games. The Jaguars will then play at Fort Dodge, Waukee and Johnston.
"We're going to find out what kind of road warriors we are," Fontana said.