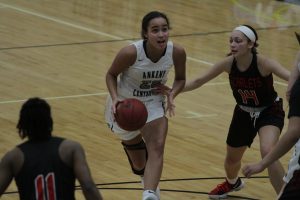 Down by seven points with less than 4 minutes left to play, the Ankeny Centennial girls' basketball team was in danger of suffering a rare home-court loss on its Senior Night.
But Chloe Olson refused to let it happen.
The senior forward scored four points down the stretch to help force overtime, then added a pair of free throws in the extra period as the seventh-ranked Jaguars pulled away for a 50-42 victory over Des Moines East in a CIML non-conference game on Tuesday.
"That would have been really sad (to lose)," Olson said. "We've lost before on Senior Night, and it wasn't fun. I was happy we came through."
The win was the sixth in a row for Centennial, which ended the game with a 17-2 run to improve its record to 15-3. The Scarlets dropped to 10-8.
"We've won a lot of games where we've been behind at halftime," said Centennial coach Scott DeJong. "I just think we showed a winning attitude and a lot of determination late in the game, that's for sure. We had a lot of kids step up and make plays."
East held a 40-33 lead midway through the fourth quarter before Rachel Schon scored a basket with 3 minutes 14 seconds left to spark the Jaguars' rally. Taylor Runchey followed with a 3-point goal, her only basket of the game, before Olson made two free throws to tie the score with 1:30 remaining.
After Olson stole the ball on the Scarlets' ensuing possession, Centennial took a 42-40 lead when Olson scored off an inbounds play with 50 seconds to go. She finished with 15 points and 10 rebounds.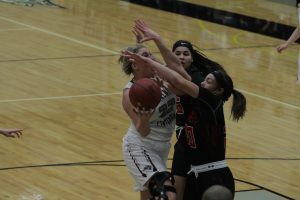 "I've been sick and I wasn't 100 percent, so it took me a little while to get going," Olson said. "In the third and fourth quarters, I just told myself that I had to play my own game."
East's Eriana Brown scored on a runner while being fouled with 16.7 seconds left. However, she missed the free throw that could have put her team ahead.
Olson then missed a baseline jumper in the final seconds, sending the game to overtime. The Jaguars outscored East, 8-0, the rest of the way.
Rachel Schon had 12 points and 11 rebounds in the win. She scored the only basket of the overtime period.
Meg Burns also had 12 points, including a trio of 3-pointers. Sydney Wycoff added four assists and three steals for Centennial, which made just 17-of-49 shots from the field.
"East likes to tempo the game and when they spread you out, we had a little bit of a hard matchup and we had a hard time scoring again tonight," DeJong said. "I thought our defense was pretty good throughout, and I thought our offense was better in the second half."
The win likely wrapped up a No. 1 seed for Centennial in an upcoming Class 5A regional tournament. The postseason pairings will be announced on Thursday.
"It's really exciting," Olson said. "I hope we can play at home again. I love playing on the home court."