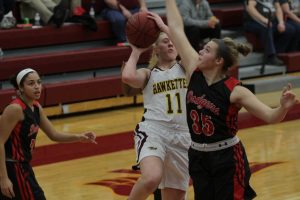 For much of the first half on Tuesday, the Ankeny girls' basketball team let visiting Fort Dodge dictate the pace of the game.
"They play a defense that is just kind of helter skelter," Ankeny coach Dru McAnelly said of the Dodgers, "and we were playing right into the hands of it. We were a little robotic, and they were kind of eating us up because of it."
Fort Dodge took a 17-13 lead in the second quarter on a 3-point goal by Shareece Smith before Ankeny closed the half on a 9-1 run. The Hawkettes took the lead for good on a 3-pointer by Sydney Shadravan, then pulled away in the second half for a 57-33 victory in the CIML non-conference game.
"We had a slow first quarter, so we just needed to kick it in and play together as a team and work harder," said Sara McCullough. "We had a really good talk in the locker room just to focus on us and play our game. We came out the second half and we were hitting shots and running the court. It really changed the game for us."
McCullough scored 17 points and had three blocks as 15th-ranked Ankeny evened its record at 9-9. Shadravan had 10 points, 10 rebounds and three assists, while Jaelynn Kueker chipped in eight points and two steals. Holly Trimble added six points off the bench.
"Holly was huge for us tonight," McAnelly said.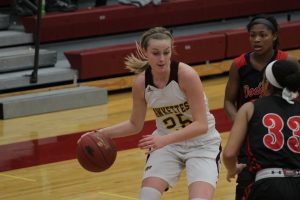 Smith led Fort Dodge (4-13) with 10 points. Beth Murman added nine for the Dodgers, who are coached by former Iowa State standout Julius Michalik.
"We struggled shooting," Michalik told the Fort Dodge Messenger. "We especially struggled in the second half."
The Hawkettes opened the game in a zone defense, then switched to a man-to-man in the third quarter. The move paid off at both ends of the court.
"We just didn't have any energy in the first half, so that's why we made the switch," McAnelly said. "And it's amazing when your defensive intensity goes up how it helps your offense.
"We really started to get into a flow in the third quarter and we were playing both sides of the floor, moving the ball from side to side. We got some layups and then we were able to hit some 3-pointers, too," he added.
McCullough said she's looking forward to Thursday, when the Class 5A regional pairings will be announced by the Iowa Girls' High School Athletic Union.
"We're excited to see who we'll play," she said. "Hopefully, this win will give us a chance to have a home game, so we really needed this win under our belt."