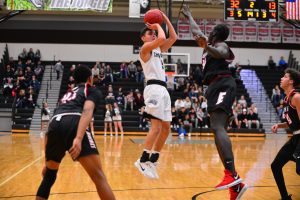 Ankeny Centennial basketball standout Hunter Strait is closing in on a huge accomplishment.
The senior guard needs four more points to reach the 1,000-point career mark. He will likely achieve the milestone during Friday's game at Ames.
Strait is averaging a team-high 16.9 points per game for the Jaguars. The Truman State recruit has scored 270 points this season while posting shooting percentages of 45.1 from the field, 40.0 from 3-point range and 74.7 from the free-throw line.
Strait has scored in double figures in 15 of the 16 games this season. He has scored 20 or more points five times, including a career-high 32 in a loss to Ankeny on Jan. 26.
Strait started his high school career at Cedar Rapids Washington, where he scored 95 points as a freshman while averaging 4.3 points during the 2014-15 season. He then averaged 12.9 points as a sophomore, when he was the Warriors' third-leading scorer (with 283 points).
As a junior, Strait scored 44 points in two games for Cedar Rapids Washington before moving to Ankeny, where he transferred to Centennial. He went on to average 16.9 points for the Jaguars, racking up 304 points in the final 18 games of the season.