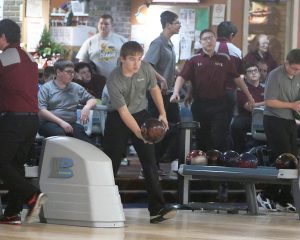 A dynamic duo emerged for the Ankeny bowling teams on Thursday during a CIML non-conference meet against Ottumwa.
Brandon Schumacher and Isabel Tetmeyer led the way for their respective squads, but it wasn't enough as top-ranked Ottumwa prevailed in both meets on its home lanes at Champion Bowl. The Bulldogs are now a combined 19-1 on the season.
"The boys really lit it up tonight, led by Brandon's breakout performance for this season," said Ankeny coach Jim Robidoux. "The boys were down only 50 pins after the individual games after bowling 23 pins over their average with a 1,977. Our 241 to lead off the Baker games put us up by 34 pins, but Ottumwa came back with a 239 and 205 Baker games to get the victory."
Ankeny posted a season-high score in the 3,009-2,925 loss. The Hawks dropped to 2-7 overall despite topping their previous high by 210 pins.
Schumacher bowled back-to-back games of 257 and 240 for a 497 series. Bryce Follett had a 398 series, Collin Runyan rolled a 391, Gage Payton had a 356, Mason Thompson bowled a 335, and Joel Unick added a 316.
"Our guys were amazing, but got tired because we just can't get enough reps in practice," Robidoux said.
The Ottumwa boys (9-1) used an all-senior lineup on Senior Night, but it was the performance of two underclassmen in the junior varsity meet that stole the spotlight. Jaxson Coble and Dawson Greene both went to the final frame with a chance to roll a perfect game.
Coble got two more strikes in the 10th, then left a pin to finish with a 299. Greene then finished a perfect game, just the third in Ottumwa school history.
"In my experience, I've never seen anything like it," Bulldogs coach Brandon Brooks told the Ottumwa Courier. "But that's what makes this sport exciting. Jaxson rolled a great ball, but just didn't get the carry. Bowling a 300 takes a lot of mental skill because the pressure there is incredible. It's something that was really fun to experience, and I'm glad the boys could share that moment."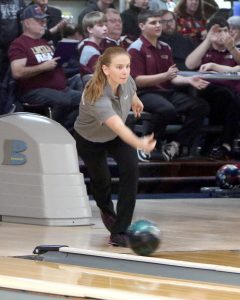 In the girls' meet, Ottumwa posted a 2,709-2,461 victory to remain unbeaten on the season, improving to 10-0. The Hawkettes' record fell to 5-4.
Tetmeyer bowled a 235 in her opening game and finished with a 431 series.
"Isabel is our super(freshman)," Robidoux said. "She had our No. 2 high game and series for the season (behind teammate Sydney Sears). Our girls rolled well, but just came up short against a great team."
Sears bowled a 368 series in the loss. Emma Harris had a 285, Christina Angran rolled a 276, Zoe Baker had a 262, and Cynthia Angran followed with a 254.
Ankeny will host Southeast Polk for its Senior Night on Tuesday before competing in the CIML conference tournament on Thursday. Both meets will be held at Great Escape.
"We can't wait for next week," Robidoux said. "Great Escape is our home away from home away from home since we don't have a bowling center in Ankeny and our next option, Plaza Lanes, burned down. The kids have had some great practice rounds at Great Escape."