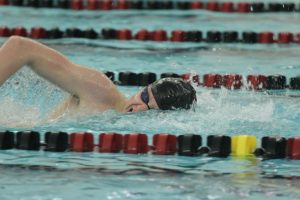 Three of the state's top six boys' swimming teams will be in action on Saturday at a district meet at Trail Point Aquatics Center.
Third-ranked Ankeny will host the eight-team meet, which begins at noon. No. 1 Ames and No. 6 Waukee, the two-time defending state champion, will also be in the field.
The stiff competition could be beneficial to all three teams. The fastest 24 individual swimmers and relay teams from district competition will qualify for the state meet, which is slated for Feb. 10 at Iowa City.
"We've put in a great season of work and we get to host the meet, so I feel like the team is definitely ready," said Ankeny senior Connor Neils, who is ranked 11th in the state in the 500 freestyle and 13th in the 200 individual medley. "We have some swimmers fully tapered and some who aren't because the ultimate goal is state next weekend."
Ames handed Ankeny one of its two dual-meet losses, 98-72, on Dec. 7. The Hawks later posted a 95-75 victory at Waukee on Jan. 12.
Two weeks ago, Ames won the CIML Central Conference title by racking up 530 points at the Southeast Polk pool. Ankeny placed third with 445.5 points, and Waukee was fourth with 407.
Ames is ranked first in the state in the 200 medley relay, second in the 400 freestyle relay and third in the 200 freestyle relay. Ankeny is ranked fourth in the 200 freestyle relay and fifth in the 400 freestyle relay.
The Little Cyclones are led by Dalton Lillibridge, who is one of the state's most versatile swimmers. He is ranked second in the 100 breaststroke, third in the 200 IM, fourth in the 100 butterfly and sixth in the 200 freestyle.
The Hawks are led by freshman distance standout Trent Frandson. He is ranked fourth in the 500 freestyle, seventh in the 200 freestyle and eighth in the 100 freestyle.
Ankeny's Max Martin is ranked third in the 50 freestyle, while teammate Adam Vaske is ranked ninth in the 100 freestyle. Martin will likely be challenged on Saturday by Newton's Caleb Gaylor, who is ranked eighth in the 50 freestyle.
Cameron Linder is Waukee's top swimmer. He is ranked fifth in the 200 IM and sixth in the 500 freestyle.