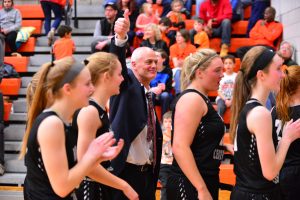 Fans of the Ankeny Centennial girls' basketball team came prepared to celebrate on Friday night.
The Jaguars' faithful held up signs to congratulate coach Scott DeJong on his 600th career victory following his team's 53-25 win at Ames.
Afterwards, DeJong shared the achievement with his players and assistant coaches.
"It just means we've had a lot of good players and we've coached a long time–the whole coaching staff," he said. "When you look at the players who have gone through our system here, it's been a great run."
It was the seventh straight victory for fifth-ranked Centennial, which kept pace with No. 6 Waukee in the race for the CIML Central Conference title. The Jaguars improved to 8-1 in the league and 16-3 overall, while Ames' records dropped to 1-8 and 8-11.
Centennial will play at Waukee on Friday for the conference championship.
"I'm sure they'll be excited to see us come to their gym," DeJong said of the Warriors. "When it comes down to the last game like that, that's what you work for. That's what makes it fun."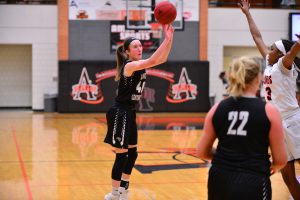 Meg Burns scored a career-high 18 points in Friday's win, going 6-for-7 from 3-point range. Chloe Olson had 13 points, nine rebounds and five assists.
Sydney Wycoff went 3-for-4 from behind the arc and had 11 points, six rebounds and five assists. As a team, the Jaguars made 10-of-15 3-pointers.
"We really shot the ball well from 3," DeJong said. "I thought the second half we moved the ball really well, and the 3s started falling. That makes us pretty tough when we get the inside-out game going."
Centennial held a 19-10 lead at halftime. After Ames pulled to within 21-16 in the third quarter, the Jaguars broke the game open with a 21-2 run over the next 6 minutes.
"(Centennial) took away things we've been able to do," Little Cyclones coach Joel Sullivan told the Ames Tribune. "We've been able to separate and create space to get shots up and make shots. Tonight we couldn't. We missed layups, we missed free throws, we missed wide-open 3s. It was just a bad night on both ends of the floor."
Amara Lipsey had nine points to lead Ames, which scored just two points in the opening quarter.
"Our defense was really, really good the whole night," DeJong said. "It was just a great win for us, and we needed that."