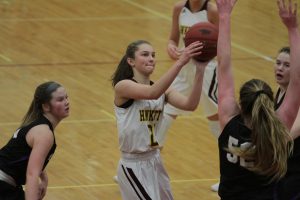 The Ankeny girls' basketball team didn't have an answer for Waukee's diverse offensive attack on Friday.
The sixth-ranked Warriors relied on their superior size to score numerous baskets in the paint, but they also connected for nine 3-point goals en route to a 66-44 victory at No. 15 Ankeny.
"They're who they are for a reason–they're very good," Ankeny coach Dru McAnelly said of the Warriors. "You look at their losses–they lost by two points to Ankeny Centennial and in overtime to Dowling (Catholic) on Tuesday. They're three or four possessions away from being 18-0."
Freshman Lexi Boles scored 21 points, 12 of them in the fourth quarter, as Waukee remained in a tie for first place in the CIML Central Conference with No. 5 Centennial. The Warriors are now 8-1 in the league and 16-3 overall, while Ankeny's records dropped to 2-7 and 9-10.
Anna Brown had 13 points, Paityn Rau chipped in 12, and Jori Nieman added 10 for Waukee, which used a 12-0 run in the second quarter to erase the Hawkettes' 21-18 lead.
"I thought our girls played with great effort against a really good team like that," McAnelly said. "But when you have a 12-0 run and you just can't get a bucket, you just can't recover from that."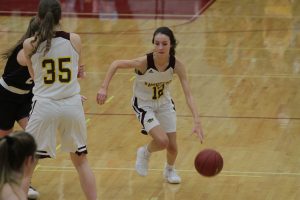 Sara McCullough led Ankeny with 16 points. Sydney Shadravan added 12.
McCullough had scored 27 points in the Hawkettes' 49-36 loss at Waukee on Jan. 5, when the Warriors led by just three points after three quarters.
"It was a great game plan by them," McAnelly said. "If you look back at the first game, they were more perimeter-oriented. You could tell coach (Chris) Guess probably hit home in practice the last few days to pound the ball inside, and that was the difference."
Ankeny trailed by just 30-25 at halftime and was still within 39-33 midway through the third quarter. The Warriors then went on an 18-1 run to build a 57-34 advantage.
Rau, a 6-foot-2 junior, started the run with her second 3-pointer.
"It's a little bit disheartening when their posts are making 3s," McAnelly said. "They're just a really good team. I thought we had some girls step up, but (Waukee) did what they had to do. They executed very well."