Ankeny Centennial's Hunter Strait entered Friday's game at Ames in search of a milestone.
He left the gym with a much-needed victory as well.
Strait scored 22 points to surpass the 1,000-point career mark and the Centennial boys' basketball team rallied in the second half to post a 59-51 victory over the Little Cyclones.
"Hitting 1,000 points has been a dream of mine since I was a little kid," said Strait, who also had seven rebounds, three assists and two steals in the win. "I couldn't have done this without my teammates and coaches continuously pushing and encouraging me. It's a great feeling to get 1,000, but it feels even better to get the 'W'."
The win improved Centennial's records to 6-3 in the CIML Central Conference and 12-5 overall. Combined with Ankeny's upset over Waukee, the Jaguars moved into a three-way tie for first place in the conference.
Centennial will play at Waukee on Friday for at least a share of the league crown. Valley can also earn a piece of the title by defeating Ankeny.
"We put ourselves in that position thankfully," said Centennial coach Bob Fontana. "This is going to be a big week for us, because if we beat Fort Dodge on Tuesday we also secure the No. 2 seed in our substate."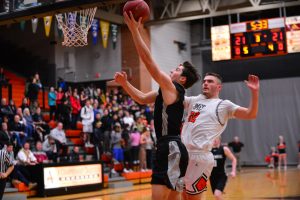 Strait needed only four points to reach the milestone. He converted a 3-point play in the first half to become the second Centennial player to hit the 1,000-point mark.
The first player to accomplish the feat was Carter Burns in the 2014-15 season. Burns started his career at Ottumwa before transferring to Centennial for his senior year.
Strait started his high school career at Cedar Rapids Washington, where he scored 95 points as a freshman and 283 as a sophomore. After scoring 44 points in the first two games of his junior year, Strait moved to Ankeny and transferred to Centennial, where he racked up 304 points in the final 18 games last season.
Strait has now scored 292 points this season and 1,018 in his career.
"It's a nice honor for him," Fontana said.
Ames (4-5, 7-10) held an 18-14 halftime lead after the Jaguars struggled offensively in the first half.
"We didn't follow the game plan and were settling a lot (for bad shots)," Strait said. "In the second half we came out attacking and were knocking down layups and free throws."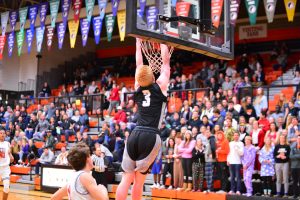 A 24-point third quarter allowed Centennial to take a 38-30 lead. The Jaguars then held off Ames in the final period to defeat the Little Cyclones for the second time this season.
Zach Kluver had 13 of his 15 points in the second half. He went 7-for-8 from the field.
Jackson Brannan chipped in nine points, while Micah Johnson had eight points and seven rebounds. Cody McCullough added four points, five rebounds and two blocks.
"We acted like we were in a coma the first half," Fontana said. "We did a very poor job of moving the ball on offense, took some quick shots and let (Ames) control the entire tempo of the game.
"But the second half we had great ball movement, great ball reversal, we got things going in transition, we attacked the rim, and we made the game simple. That was obviously the big difference," he added.
Jappanah Kellogg scored 14 points to lead Ames, which suffered its fourth straight loss. Joe Evans added 12.
"Credit to Centennial–they're a really good team," Evans told the Ames Tribune. "I couldn't get in a groove tonight. That's on me."