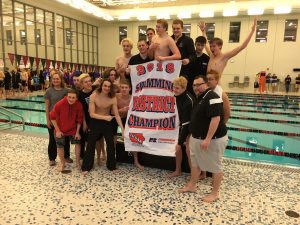 Ankeny boys' swimming coach Justin Crouch wasn't expecting to jump into the pool on Saturday.
That's what you do, though, when your team captures a district championship.
Crouch joined his swimmers for a celebratory plunge into the water at Trail Point Aquatics Center after third-ranked Ankeny won Saturday's meet with 413 points. The Hawks finished 18 points ahead of No. 1 Ames.
"I'm still kind of speechless," Crouch said as he tried to dry himself off with a towel. "The tapered guys swam about as well as I could have imagined, even better. I didn't know if we could beat the No. 1 team in the state, but that's what we did today. The guys definitely exceeded my expectations."
It was the first district title for Ankeny since 2012. Afterwards, Crouch and his assistants were named the district coaching staff of the year.
Dalton Lillibridge of Ames was selected the district swimmer of the year, but Ankeny freshman Trent Frandson would have been a deserving choice as well. Frandson won both distance events and also swam on two winning relays.
Frandson easily took the 200 freestyle in a time of 1:43.53. He later won a fierce battle in the 500 freestyle, posting a time of 4:38.75 to edge Waukee's Cameron Linder by .03 seconds.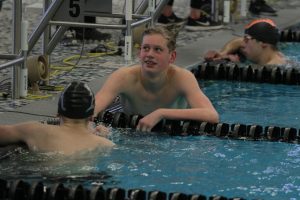 "About the last 150 (yards) he started creeping up on me," Frandson said. "I looked at him the last 25, and he was a lot closer than I thought he was. So I started sprinting and thankfully the luck was on my side and I out-touched him."
Frandson then anchored the Hawks to a decisive victory in the 200 freestyle relay. He teamed up with Max Martin, Adam Vaske and Connor Neils to win the race in 1:25.97.
Ankeny finished about 1.5 seconds ahead of runner-up Ames.
"We focused a lot in the last week on our starts and exchanges," Martin said. "It really paid off."
Ankeny held a 10-point lead going into the final event, the 400 freestyle relay. The Hawks only needed to finish third to secure the team title, but they came from behind to win the race in 3:11.12.
The team consisted of Frandson, Vaske, Noah Westercamp and Martin.
"I personally didn't think much about (the team race), but we got halfway through the meet and we had a 20-point lead and we were like, 'We've got to pull this out. We've got to do it,'" Frandson said. "It makes me really think we have a shot at winning state this year."
Martin was the runner-up in the 50 freestyle in 21.14 seconds. Caleb Gaylor of Newton won the race in 21.00.
"I was very surprised by my time. I didn't expect to go that fast," Martin said. "I was really surprised by what (Gaylor) swam."
Neils placed second for the Hawks in both the 200 individual medley (1:54.73) and 100 backstroke (52.10). Vaske took second in the 100 freestyle (47.68) and third in the 50 freestyle (21.45).
Westercamp was third in the 500 freestyle (4:49.14) and fourth in the backstroke (53.12). Brek Stukerjurgen took fifth in both of those events, posting times of 4:51.53 and 54.26.
Mason Keinroth placed fourth in the 200 IM (2:00.31) and fifth in the 100 breaststroke (1:02.91). Also placing fifth were Matt Hines in the 200 freestyle (1:49.53) and Weston Miner in the 100 butterfly (53.94).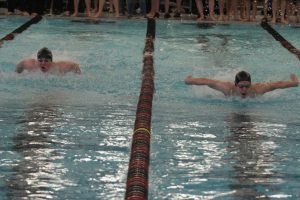 Ankeny opened the meet with a second-place finish in the 200 medley relay. The foursome of Westercamp, Keinroth, Neils and Martin was clocked in 1:37.28.
"(The team crown) is something that kind of falls into place," Crouch said. "If you're swimming well, you're going to be in contention. I knew early in the meet after the medley relay that we had come to swim."
The fastest 24 individual swimmers and relay teams from district competition will qualify for the state meet, which is slated for Saturday at Iowa City. The official list of state qualifiers will likely be announced later tonight.