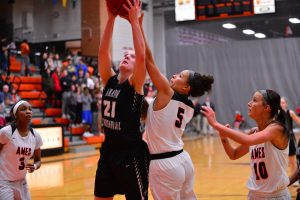 Rachel Schon is the Ankeny Fanatic prep of the week sponsored by Revive Clinic and Spa. The junior center has helped the Ankeny Centennial girls' basketball team to a 16-3 record and a No. 5 ranking in Class 5A.
Schon is averaging 12.0 points and 5.9 rebounds per game. She is shooting 52.4 percent from the field (66-of-126), including 50 percent from 3-point range (6-of-12).
Here is some inside info on Schon:
Your team is currently on a seven-game winning streak. What has been the key to the team's success since losing at No. 7 Southeast Polk on Jan. 9?
After that game we talked about how we wanted to proceed, and we began with a more focused practice. In the last few weeks we've worked hard to gain the success we have had. Every day we push each other to be our best, and we are really close because of it.
You missed the Southeast Polk game, as well as three others, due to an ankle injury. Are you 100 percent healthy now?
I am not quite yet 100 percent, but my ankle has improved a lot. It continues to get stronger as we work toward the end of the season.
Your team's only other losses came to No. 2 Cedar Falls and No. 4 Johnston. Who do you think is the best team that you have played?
Class 5A is really competitive, but the most difficult opponent we have played is Cedar Falls. They are a very long and athletic team that defends well and makes many shots.
Your team will play at No. 6 Waukee on Friday in a game that will decide the CIML Central Conference title. What will it take to beat the Warriors for the second time this season?
Waukee is a tough team, so we will need to come with our "A" game, being focused and confident. Our team's goal is to play united, so we will have each other's backs all over the court. As we have focused on all year, defense will be key.
The Class 5A regional pairings were announced last week. What do you think of your team's postseason draw?
I am excited for the postseason. The road to state won't be easy, but I am confident our team has the ability to make it.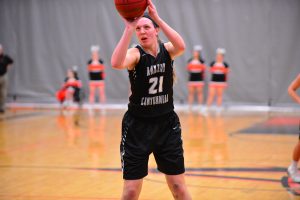 Defending state champion Valley could be your opponent in the regional final. Do you think it would be difficult to beat the Tigers for a third time?
Valley is a tough team to beat, and playing them in the game to go to state will be difficult. But I think our team is ready to take the challenge.
You are also a member of the Centennial volleyball team. Which sport, if any, are you planning to pursue in college?
I love both sports, but my favorite is basketball. I am hoping to continue to play the game through college.
Have you looked at any schools yet?
I have looked at a few schools, but due to an injury I have missed the last two AAU seasons. Finally being healthy, I am excited to get back into the action this summer and see where it takes me.
What are you planning to study in college?
I am very interested in medicine, so I plan to study biology and then go to medical school in hopes of becoming a surgeon.
Your brother, Jay, played on the Grand View men's basketball team last season. Has he given you any advice in terms of what to look for in a college?
Jay has been really helpful in this process because he and I have a lot of similar interests both academically and with basketball. In terms of advice, he has helped me focus on what I find important in a college, so that I can find the best fit.
I've seen the video of coach Scott DeJong and the other coaches dancing in the locker room after one of your team's biggest wins. Which of your coaches has the best dance moves?
Our coaching staff is awesome, and their participation in the team dance was super fun. The best dance moves probably came from one of our assistants, coach (Jon) Maifield. His energy definitely brought out the applause.