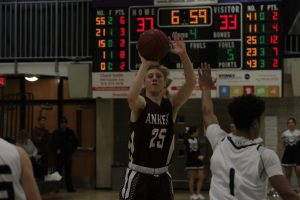 Jaron Crews walked out of the locker room on crutches after Tuesday's game at Des Moines Roosevelt.
It was that kind of night for the Ankeny boys' basketball team.
Crews, a freshman forward, was helped off the court after injuring his right knee midway through the fourth quarter. The Roughriders then outscored Ankeny the rest of the way, 11-5, to post a 54-48 victory in a CIML non-conference contest.
"I don't know (how bad the injury is)," said Ankeny coach Brandt Carlson. "We'll try to find out in the morning. It doesn't look good right now, and (his absence) definitely hurt us down the stretch."
The Hawks (6-12) also played the fourth quarter without senior forward Ben Lyon, who was called for a technical foul late in the third period. It was his second technical in as many games.
"We've had some conversations there, and we decided not to put him back in," Carlson said. "So we were down two starters at that point (when Crews got hurt)."
Dillon Carlson led Ankeny with 18 points, including four 3-point goals in the second half. He is averaging 20.5 points over his last four games.
"It was just a rough game," Dillon Carlson said. "We came back from a good win against Waukee (on Friday) and just didn't come out with enough energy to get it done."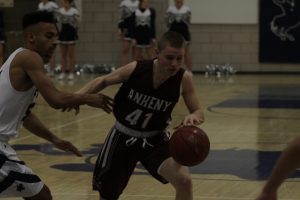 Roosevelt evened its record at 9-9. The Roughriders had lost five of their previous six games, but all of those losses came to quality teams–Ankeny Centennial, Des Moines Hoover, Dowling Catholic, Johnston and Des Moines North–by an average of seven points.
"They're very similar to us," Dillon Carlson said of the Roughriders. "They're a tough team, and they've played every team pretty close. It's all about matchups, and it was their night tonight."
Landon Ingle led Roosevelt with 11 points. Many of his baskets came at crucial times.
Ankeny rallied from a seven-point deficit to take a 21-19 lead late in the second quarter. Ingle then drained a 3-pointer with 10 seconds left to put the Roughriders ahead at the half.
Carlson had eight points in the third quarter. His 3-pointer gave the Hawks a 31-30 lead with 2:42 left in the period, but Ingle then answered with a trey of his own.
Carlson later made another 3-pointer to cut Roosevelt's lead to 47-46 with 2:50 remaining, but Ingle then converted a 3-point play with 1:10 left to give the Roughriders some breathing room. Ingle's basket came after Ankeny was unable to grab a defensive rebound.
"We had our chances in the fourth," coach Carlson said. "We just could not get a board when we needed it, and we missed some layups, too. It was definitely a winnable game, but we just didn't finish."
Now, the Hawks may be without one of their key players, perhaps for the rest of the season.
"We have a lot of other guys who can step up and do his thing," Dillon Carlson said. "Jaron will be missed, but we have other guys who can step up."