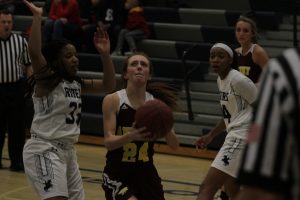 Dru McAnelly checked off another box Tuesday following the latest victory by his Ankeny girls' basketball team.
The 15th-ranked Hawkettes rolled to a 69-30 win at Des Moines Roosevelt in a CIML non-conference game, allowing them to even their record at 10-10.
"We've been calling it a season of firsts, starting with getting rated and getting our first conference wins," said McAnelly. "And now we've got our first season of double-digit victories which sets us up to have a chance at a first winning regular season."
Sydney Shadravan tied her season-high with 13 points to lead Ankeny's balanced attack. She also had five rebounds and three steals.
Sara McCullough added 10 points, six rebounds and three steals for the Hawkettes, who also got seven points apiece from Meghan Trimble and Abby Johnson.
"We came out and played hard," McCullough said. "This is the first time since the split (into two high schools) that the team has been in double digits for wins, so it feels good to do that."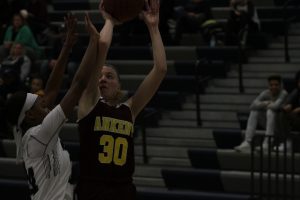 Ankeny took control of the game right away, jumping out to an 18-5 lead in the first quarter.
"Good teams do what they need to do every given night," McAnelly said. "Tonight was a night where if you don't come out and play hard and with energy you can make things interesting, and we didn't do that."
Roosevelt (5-15) rallied, however, and closed the gap to 21-16 in the second quarter. The Hawkettes then answered with a 16-0 run en route to a 39-18 halftime lead.
Shadravan had eight of her points in the first half, including a 3-point goal at the buzzer.
"We came out and got up early, then (Roosevelt) hit some shots that they don't normally hit," McAnelly said. "But I was proud of the way we responded. We made a little adjustment defensively and really locked it in, and that run to end the half was the difference in the game."
Ankeny will close out the regular season on Friday with a CIML Central Conference game at No. 12 Valley, the defending Class 5A state champion.
"We want to get as many wins as we can in the regular season because that will help us in the postseason," McCullough said.