In just six days, the Ankeny Centennial wrestling team closed the gap considerably on fifth-ranked Johnston.
The No. 9 Jaguars just didn't close it far enough.
The Dragons advanced to next week's state duals tournament with a 35-30 victory over visiting Centennial in a Class 3A regional final on Wednesday. The Jaguars, who dropped a 44-22 decision at Johnston on Feb. 1, finished the season with a 22-9 dual record.
"We came out and fought, and I was pleased with that," said Centennial coach Jay Groth. "We flipped a couple of matches, but we didn't get done what we wanted to."
Johnston built a 32-13 lead after fifth-ranked Collin Hushagen pinned No. 9 Nic Leo at 170 pounds, but the Jaguars answered with falls by sixth-ranked Colin Honderd at 182 and Noah Stober at 195. Lane Pruisner then posted a 2-1 overtime decision against Ben Standish at 220, pulling Centennial to within 32-28 with two matches left.
The Dragons then sealed the victory when second-ranked Jake Ryan defeated Ryan Brennecke, 5-0, at 285.
"We talked about not giving up bonus points and getting some bonus points of our own," Groth said. "I thought we wrestled tough, so going into (the district tournament on) Saturday I think we're in a good place."
Johnston won two of the three matches between rated opponents. Sixth-ranked Caleb Helgeson, the son of Centennial assistant football coach Jeff Helgeson, opened the meet with a 12-4 major decision over No. 9 Noah Blubaugh at 113.
The Jaguars got a major decision from sixth-ranked Ben Monroe at 120. He rolled to a 20-8 victory over No. 8 Thomas Edwards.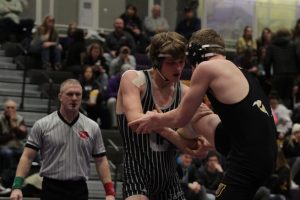 Afterwards, Groth voiced his displeasure with how the meet was officiated.
"I don't know if the official would have made a difference if he did a good job, but I am convinced–and I don't usually say this–he did not do a good job today," Groth said. "And normally he's a pretty good official, but he was out of his element today. I'm just disappointed with that. I think it changed the complexion of a couple of matches, and who knows then what would have happened."
Groth tried to get a clarification on a call during the final match of the meet. The official said it was a judgment call and penalized the Jaguars a team point.
"I don't think I've lost a team point in the last 20 years," Groth said. "I thought I had enough reason to go out and argue this one, but that's the way it goes."
Centennial advanced to the regional final after posting a 42-29 victory over No. 22 Dallas Center-Grimes. Monroe, Stober and Pruisner each had a fall for the Jaguars, and so did Mason Honderd at 132.
"We wrestled well," Groth said. "But we let a couple of matches slip through our fingers that we definitely should have won. On Saturday, we're going to have to earn those back."
Here are the match-by-match results:
Centennial 42, Dallas Center-Grimes 29
106: Carter (AC) won by forfeit; 113: A. Kovaleski (DCG) beat Blubaugh, 8-6; 120: Monroe (AC) pinned Braunschweig, 3:39; 126: Cuppy (AC) beat E. Kovaleski, 7-6; 132: M. Honderd (AC) pinned Wells, 2:48; 138: Tracy (DCG) won by technical fall over Nessler, 19-3; 145: Ayres (AC) won by technical fall over Broderick, 18-3; 152: Fistler (DCG) pinned Vaughan, 4:59; 160: Mulder (DCG) beat Neils, 11-5; 170: Leo (AC) beat Chambers, 15-5; 182: Needham (DCG) pinned Frazier, 2:38; 195: Stober (AC) pinned Willey, 1:52; 220: Pruisner (AC) pinned Collins, 3:31; 285: Comer (DCG) pinned McClaskey, 3:12.
Johnston 35, Centennial 30
113: Helgeson (J) beat Blubaugh, 12-4; 120: Monroe (AC) beat T. Edwards, 20-8; 126: J. Edwards (J) pinned Cuppy, 4:53; 132: Price (J) pinned M. Honderd, 2:47; 138: Owens (AC) pinned Brunk, 3:06; 145: Pohlmeyer (J) beat Ayres, 9-1; 152: Ca. Moss (J) pinned Vaughan, 1:08; 160: Neils (AC) beat Rogers, 4-0; 170: Hushagen (J) pinned Leo, 4:22; 182: C. Honderd (AC) pinned Baer-Deffebaugh, 1:27; 195: Stober (AC) pinned Rolley, :55; 220: Pruisner (AC) beat Standish, 2-1 (OT); 285: Ryan (J) beat Brennecke, 5-0; 106: Carter (AC) beat Stahlbaum, 7-5.