After avenging one of its dual-meet losses, the Ankeny wrestlers were hoping to avenge another one while earning a trip to next week's state duals tournament at Wells Fargo Arena.
Unfortunately, top-ranked Fort Dodge had some other ideas.
The Dodgers won eight of the last nine matches, all of them by falls, and rolled to a 58-18 victory over No. 17 Ankeny in a Class 3A regional final on Wednesday at Fort Dodge. The Hawks finished the season with an 11-9 dual record.
"We lost a couple matches early in the dual that I thought we could win and needed to win to have a shot," said Ankeny coach Jack Wignall. "We just couldn't get it done, and we kind of felt that pushed us out of the opportunity to win the meet."
The Dodgers (15-0) had one of their closest meets of the year on Dec. 7, when they posted a 39-38 victory at Ankeny. That meet was decided by the fifth criteria tiebreaker.
Wednesday's rematch quickly turned into a rout after Ankeny heavyweight Romello Gray recorded a pin to give the Hawks a 12-10 lead after five matches. The heart of Fort Dodge's lineup, beginning with second-ranked Drake Ayala at 106 pounds, was simply too good.
"They're just hammers, really all of them from 106 to 152," Wignall said. "They are tough, tough kids."
Top-ranked Brody Teske earned his 168th career victory with a 44-second fall over Sam Kallem at 126. Second-ranked Drew Bennett got his 144th career win at 132, third-ranked Damond Lockner earned his 126th victory at 145, and second-ranked Cayd Lara got his 166th win at 152.
"We flexed our muscle there with those (last) six guys," Dodgers coach Bobby Thompson told the Fort Dodge Messenger. "They came out, dominated and took care of business in front of the home fans."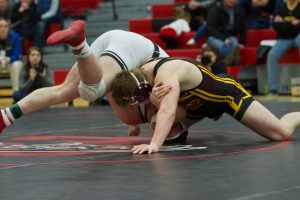 The Dodgers' dominance allowed Wignall to withhold two of his wrestlers. Senior Killyan Green injured his knee during the Hawks' 45-28 victory over Des Moines East in the opening round, while freshman standout Caleb Rathjen–who is ranked second at 113–won't make his return from an injury until Saturday's district tournament at Waukee.
"We actually started out at a good weight for us so that we could see how the dual was going to make a decision on who we were going to wrestle and who we were going to keep out," Wignall said. "Green just tweaked his knee a little bit. We'll know more in the morning, but I think he'll be Ok for Saturday. We just didn't want to take any chances."
Rathjen has not competed since mid-December due to an ankle injury.
"He's ready to go, but there wasn't any reason to wrestle him," Wignall said. "We all kind of wanted him to get a match to get some confidence, but at the end of the day there just wasn't a reason to. He's antsy and ready to get on the mat and he looks great in practice, but we were just being cautious."
Earlier, Ankeny defeated No. 16 East to avenge a 36-34 loss to the Scarlets at the Waukee Duals on Dec. 16. The Hawks recorded six falls, including one by Luke Sable at 170, who got his 26th pin of the season.
"We won some matches that we lost in the earlier dual," Wignall said. "That was why we won."
Here are the match-by-match results:
Ankeny 45, D.M. East 28
160: Scott (E) beat Martin, 7-1; 170: Sable (A) pinned Woodyard, 1:41; 182: Abimana (E) beat Goldner, 12-6; 195: Co. Rathjen (A) pinned Pendleton, 2:54; 220: Beardsley (A) beat March, 3-2; 285: Gray (A) pinned James, 3:38; 106: Cox (A) won by forfeit; 113: Fnu (A) pinned Green, 1:57; 120: D. Anderson (A) pinned Burkheimer, :32; 126: Kallem (A) pinned Heller, 1:30; 132: Jordan (E) beat S. Anderson, 13-2; 138: Milligan (E) pinned Menegay, 4:40; 145: Dentis (E) won by injury default over Green; 152: Giboo (E) pinned Scherle, 3:21.
Fort Dodge 58, Ankeny 18
170: Smith (FD) beat Sable, 17-5; 182: Lee (FD) pinned Goldner, 1:38; 195: Co. Rathjen (A) beat Licht, 8-7; 220: Beardsley (A) beat Elliott, 5-4; 285: Gray (A) pinned Finowski, 5:04; 106: D. Ayala (FD) pinned Cox, 2:00; 113: Taylor (FD) pinned Fnu, 3:38; 120: D. Anderson (A) pinned J. Ayala, 5:33; 126: Teske (FD) pinned Kallem, :44; 132: Bennett (FD) pinned Carl, 2:23; 138: Ross (FD) pinned Menegay, 5:30; 145: Lockner (FD) pinned Rose, :57; 152: Lara (FD) pinned Scherle, :57; 160: Egli (FD) pinned Martin, 5:46.