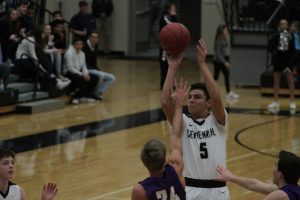 A pair of championships will be at stake on Friday night at the Waukee Fieldhouse.
Waukee will host a basketball doubleheader against Ankeny Centennial, beginning with the girls' game at 6:15 p.m. The winner of both contests will capture the CIML Central Conference title.
"I think it's important that we win the conference because it will build our confidence going into the postseason games," said Centennial guard Sydney Wycoff. "We aren't necessarily putting a lot of emphasis on the game, though. We are playing it like a normal game."
It's the regular-season finale for fifth-ranked Centennial and No. 6 Waukee. Both squads enter the game with records of 8-1 in the conference and 17-3 overall.
The Jaguars are riding an eight-game winning streak that began with a 52-50 victory over Waukee on Jan. 12. The Warriors' three losses have come by a total of eight points.
Meg Burns went 4-for-6 from 3-point range and had 16 points in the first meeting. Wycoff added 11 points, five rebounds and six assists.
Jori Nieman led Waukee with 20 points. Anna Brown, the team's leading scorer with a 16.7 average, was held to nine points on 2-of-11 shooting.
Centennial has won the last six meetings against the Warriors, but three of the last four games have been decided by two points. The Jaguars rolled to a 70-49 victory at Waukee last season.
"That gives us confidence, but we aren't satisfied," Wycoff said. "We want to win (Friday) and go out of the regular season with a win and keep (our momentum) going in the postseason."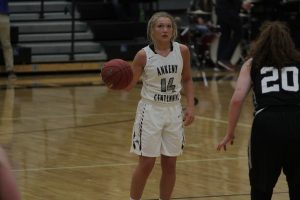 In the boys' game, both Centennial and Waukee will be looking to claim at least a share of the league title. Both teams are 6-3 in the conference along with Valley, which can earn a piece of the crown with a win over Ankeny.
Centennial (12-6) will try to rebound from a 50-37 loss at Fort Dodge on Tuesday. Leading scorer Hunter Strait was held to a season-low five points on 2-of-11 shooting and did not record an assist.
"It was rough," Strait said. "We definitely watched the film and tried to learn from what we did bad and what to do to fix it. It was a big wake-up call and showed us the level we have to play at in order to win."
Waukee (15-4) is coming off back-to-back losses to Ankeny and Des Moines Hoover after winning 12 of its previous 13 games. The Warriors lost the first meeting at Centennial, 62-55, last month.
Strait had 15 points in the earlier win over the Warriors. Lathan Brandt had 14 points, and Jackson Brannan added 13.
Iowa football recruit Nathan Nelson led Waukee with 18 points.
"Of course that win gives us confidence," Strait said. "We know what to do. We've just got to execute the game plan like last time, and we should be fine."