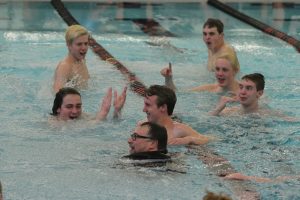 The members of the Ankeny boys' swimming team have set their sights on a state championship trophy.
"That's definitely our goal," said sophomore sprinter Max Martin. "I feel really good about our chances."
Ankeny enters Saturday's state meet in Iowa City as the No. 1 team in the state. The Hawks racked up 1,967 power points, 14 more than Ames, while winning a district title last Saturday at Trail Point Aquatics Center.
Ankeny won the district meet with 413 points, finishing 18 points ahead of then-No. 1 Ames.
"I knew we had a shot after the 50 (freestyle), but it was certainly unexpected," said Ankeny coach Justin Crouch, whose coaching staff was named the district coaches of the year.
Ankeny is seeking the first state championship in school history. The Hawks' best performance at a state meet was a third-place finish in 1999.
Saturday's meet is expected to be dominated by the Central Iowa Metropolitan League. No. 2 Ames, No. 3 Valley and No. 4 Waukee–the two-time defending champion–will likely battle the Hawks for the crown.
The state meet is returning to Iowa City for the first time since 2004. The meet will be held at the Campus Recreation and Wellness Center, beginning at noon with the parade of teams.
"It's a great pool over there," Crouch said. "We're really looking forward to the meet."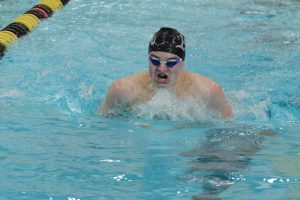 Based strictly on the seedings, Ankeny is the favorite to win the title. The Hawks qualified for the meet in all three relays and will have nine individuals competing in a total of 15 events.
Ankeny is projected to score 250 points if the seedings hold up. Ames would score 194 points, 35 more than Valley.
But Crouch knows that the meet won't be won on paper.
"It's going to be a dogfight," he said. "There's a lot of good teams and a lot of good swimmers out there. I'm happy with where we're at, but we still have some more work to do."
Ankeny could score the bulk of its points in the three relay events. The Hawks are seeded first in both freestyle relays and sixth in the 200 medley relay.
Ankeny is also seeded fifth or higher in six individual events. Martin is seeded second and Adam Vaske is third in the 50 freestyle, while Vaske is seeded fifth in the 100 freestyle.
Connor Neils is seeded second in the 200 individual medley and third in the 100 backstroke. Trent Frandson is seeded third in the 500 freestyle and fourth in the 200 freestyle.
"Hopefully, we can drop a little more time. I'm only tapered about halfway," Frandson said after the district meet.