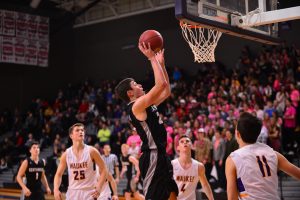 With less than 2 minutes left in Friday's game, Waukee forward Nathan Johnson leaped high in the air for an alley-oop near the basket.
Johnson was unable to corral the pass, which was tipped by an Ankeny Centennial defender. But the ball went in the hoop anyway.
It was that kind of night for the Jaguars.
Waukee used an 11-0 run in the third quarter to pull away for a 53-37 victory over visiting Centennial. The win allowed the Warriors to tie Valley for the CIML Central Conference title.
"There were times we didn't make the simple play," said Centennial coach Bob Fontana. "We got a little rattled, but give credit to (Waukee). They played a solid second half obviously."
Johnson had 16 points and 12 rebounds as Waukee avenged last month's 62-55 loss at Centennial. Dylan Jones also produced a double-double with 10 points, 10 rebounds and three blocks.
Noah Hart added 14 points and six assists for the Warriors, who finished 7-3 in the conference and improved to 16-4 overall while snapping a two-game losing skid. Centennial's records dropped to 6-4 and 12-7.
Hunter Strait scored 17 points on his birthday to lead the Jaguars, but none of his teammates had more than four points. Centennial shot just 30 percent from the field (12-of-40).
"We're very inconsistent right now offensively," Strait said. "We're not finishing around the bucket like we should, and we really need to focus on scoring when we get it inside."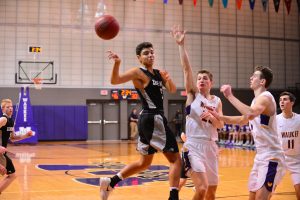 Strait scored his team's first 10 points of the game as the Jaguars took a 12-11 lead into the second quarter. But Waukee then scored the last five points of the first half to take a 22-19 lead.
The Warriors grabbed control of the game after switching to a zone defense.
"With the guys that they have, they're super long," Strait said. "When they're in that zone like that, it's tough to penetrate and get some shots off from the outside. It's a deadly zone."
Hart had seven of his points in the third quarter as Waukee pulled away to a 36-24 lead. The Warriors then opened the fourth quarter with a 7-0 run, capped off by Johnson's two-handed dunk.
Meanwhile, Strait went scoreless in the middle two quarters before finally hitting a 3-pointer midway through the final period.
"When they went to the zone, we did not knock down some shots," said Fontana, whose team was held to just 37 points for the second straight game. "We had some good looks from the corners, but we just couldn't make them. Then in the second half (Waukee's) length got to us a little bit. We turned it over in bunches, and we didn't score inside."
The Warriors scored nearly half of their points at the charity stripe, going 23-of-34. Centennial went just 10-of-16 at the line.
"It's tough to win when that happens," Fontana said of the free-throw disparity.