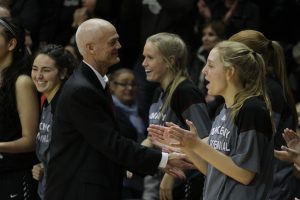 When Scott DeJong goes to sleep at night, he probably dreams of new ways to stop his opponents.
That's how much his Ankeny Centennial girls' basketball team focuses on defense.
On Friday, the fifth-ranked Jaguars allowed just one point over the last 3 1/2 minutes and rallied for a 45-35 victory over No. 6 Waukee, spoiling the Warriors' Senior Night. Centennial closed the game on a 14-1 run to secure the outright CIML Central Conference title.
"I thought we showed a lot of toughness and a lot of character when we were down three (points) and all of the sudden we went to work," said DeJong. "We got some baskets, and we got our defense going. I was really proud of how we finished the game out."
The win was the ninth in a row for Centennial, which finished 9-1 in the conference and improved to 18-3 overall. It was also the Jaguars' seventh straight victory over Waukee, whose records dropped to 8-2 and 17-4.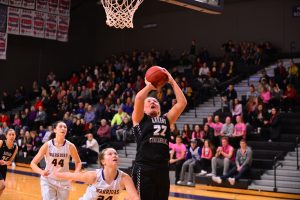 Chloe Olson scored 16 points and grabbed seven rebounds to lead Centennial. Rachel Schon added 12 points and seven boards.
"It's an incredible feeling (to win the conference)," said Schon, who also contributed two assists, three steals and a block. "I'm really proud of our team. We came out and worked really hard tonight and did what we wanted to do."
After Waukee rallied from a 14-point deficit to take a 34-31 lead, Schon made two free throws with 3:28 left to spark the Jaguars' rally. Olson hit a jumper with 2:53 remaining to put Centennial ahead for good, then made another jumper with 1:17 to go to extend the lead to 39-34.
"I have a lot of confidence in my shot," Olson said. "I work a lot in practice on those. (Assistant coach Dave) Runchey gets me ready for it."
The Jaguars then sealed the victory at the free-throw line, making 6-of-8 attempts over the last 47 seconds. Keanna Williams went 3-of-4 at the line during that stretch.
"It was good to see Keanna step up there and hit some free throws," DeJong said of Williams, who had missed 2-of-4 attempts earlier in the period.
Jori Nieman led Waukee with nine points. Anna Brown, the team's leading scorer with a 16.7 average, was held to just seven.
Brown, who scored nine points in the Warriors' 52-50 loss at Centennial last month, was defended most of the game by sophomore Meg Burns. Burns went 1-for-7 from the field and had three points as she expended most of her energy trying to contain Brown.
"We were really giving all of our effort on the defensive end so it was going to be hard to get a lot of movement on offense," DeJong said. "But that's where we put all our marbles tonight."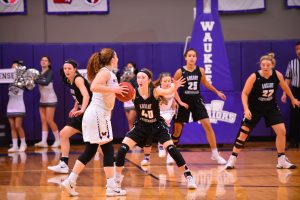 The two teams combined for just nine baskets in the first half. Olson had eight points as the Jaguars took a 16-11 lead into the break.
"We practiced all week for it, and we knew it was going to be kind of a sluggish game," Olson said. "But we came out ready to play and we took it to them."
Centennial then opened the second half with a 10-1 run and threatened to turn the game into a rout. Burns and Sydney Wycoff hit back-to-back 3-pointers as the Jaguars increased their lead to 26-12.
Waukee, which had scored 90 points in a win at Des Moines Hoover on Tuesday, was having trouble just getting off a shot.
"We really focused and prided ourselves on defense all year," Schon said. "We knew to win the game we really wanted to come out with defense. That was our main focus."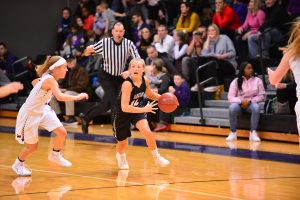 Waukee finally got untracked, closing out the third quarter with a 7-0 run. The Warriors then made a trio of 3-pointers in the final period, two of them by freshman Lindsey Kelderman, to take a 34-31 lead.
"It was a real slugfest when you get those big bodies in there," said DeJong, whose team shot just 33 percent from the field (12-of-36). "It was physical and both teams just had a hard time scoring, but then Waukee got it going and we couldn't get any stops and we turned the ball over."
Many teams would have folded after blowing a double-digit lead. But the Jaguars didn't panic.
"We all just kind of regrouped, and we knew we could do it," Schon said. "They had made a run at us the first time we played them, and we learned from that. So we came back even harder this time."