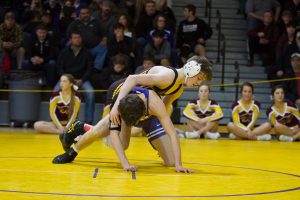 After being placed in a tough district, Ankeny advanced only two wrestlers to this week's state tournament at Wells Fargo Arena.
Caleb Rathjen at 113 pounds and Spencer Anderson at 132 each won an individual title for the Hawks, who placed fourth among the eight teams in a Class 3A district tournament on Saturday at Waukee. They finished with 171.5 points.
The tournament featured two of the top five teams in Class 3A. Third-ranked Waukee won the district title with 215 points and had nine state qualifers, while No. 5 Glenwood placed second with 195.5 and had eight qualifiers.
Even Norwalk, which placed third with 181.5 points, had five state qualifiers.
"It was a super tough district," said Ankeny coach Jack Wignall. "With those three teams there, that just didn't leave a lot of other spots for people to qualify."
Rathjen, who is ranked second, returned from an injury and easily captured a crown. After receiving a bye, the standout freshman pinned Austin Brenizer of Norwalk in the semifinals before posting an 8-1 decision over eighth-ranked Nick Miller of Waukee.
Rathjen had been out of the Hawks' lineup since mid-December due to an ankle injury. He raised his record to 17-1.
"Caleb looked fantastic," Wignall said. "It's hard to believe you can be in a boot for 3 1/2 weeks and then have a week of practice and then come in and look like that. It's just a testament to the kid's ability, skill level and mental toughness."
Like Rathjen, Anderson earned his first trip to the state tournament. The senior pinned his first two opponents to reach the final, where he won by disqualification over Gage Sorensen of Council Bluffs Lincoln.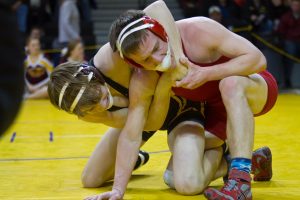 Anderson (26-13) was winning the match when Sorensen was called for his second unsportsmanlike conduct penalty late in the third period.
"Knowing that he was beat, (Sorensen) gave Spencer a good, hard push to the face and the ref was like, 'You're done,'" Wignall said. "The kid was 4 seconds away from qualifying for the state tournament and he got DQ'd from the tournament and doesn't get to go. That just shows that you've got to keep your head all the time."
Sorensen's disqualification allowed third-place finisher Cesar Salazar of Council Bluffs Jefferson to advance to the state tournament. Salazar had been pinned by Sorensen in the semifinals.
Five Ankeny wrestlers earned third-place finishes, including Cole Rathjen at 195. He dropped a 9-8 decision to Kenny Lampman of Glenwood in the final, then lost a 3-1 decision to Nate Heckart of Norwalk in a wrestle-back match for second place.
"This tournament is such an emotional rollercoaster," Wignall said. "I felt so sad for Cole. He lost a one-point match in the finals and then lost a heartbreaker in the wrestle-back. He took a great shot on the kid, and (Heckart) kept fighting and took Cole down with 1 second left. It almost tears me up right now to even talk about it."
Eighth-ranked Cael Cox at 106, seventh-ranked Derek Anderson at 120, Sam Kallem at 126 and Romello Gray at 285 also placed third for the Hawks. Anderson held a 2-0 lead over fourth-ranked Zachary Thompson of Perry in the semifinals before Thompson turned Anderson in the third period for a near-fall that produced a 3-2 victory.
"Derek had lost to (Thompson) by a major decision earlier this year," Wignall said. "He wrestled so well, and I'm so proud of him. He wrestled his guts out."
Luke Sable at 170 and Tate Beardsley at 220 each placed fourth for the Hawks.