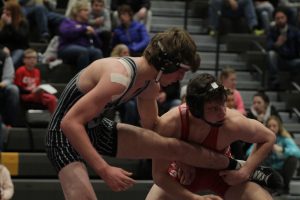 Jay Groth was hoping to advance all 14 of his Ankeny Centennial wrestlers to this week's state tournament at Wells Fargo Arena.
He'll have to settle for just eight.
The Jaguars advanced the most qualifiers in school history while placing second in a Class 3A district tournament on Saturday at Dallas Center-Grimes. They racked up 227 points to finish just 18.5 points behind fourth-ranked Southeast Polk, the three-time defending state champion.
"We wrestled really well. It was a good day," Groth said. "I'm disappointed that we didn't get all 14 through. We just missed with a couple of other guys, but I'm happy that we got eight through."
Sixth-ranked Colin Honderd at 182 pounds and heavyweight Riley McClaskey each won a district title for the Jaguars. Placing second were ninth-ranked Noah Blubaugh at 113, sixth-ranked Ben Monroe at 120, Alan Ayres at 145, sixth-ranked Logan Neils at 160, ninth-ranked Nic Leo at 170 and Noah Stober at 195.
Honderd cruised through his bracket, pinning three consecutive opponents in a combined time of 6 minutes 43 seconds. The senior flattened Zach Needham of Dallas Center-Grimes in 3:26 in the final.
Honderd, who raised his record to 34-7, has now recorded 30 falls, setting a single-season school record.
"Colin has been banged up a little bit," Groth said. "But he's a pinner anyway, so we wanted him to get some pins and get off the mat as quick as he could. He was loose and ready to go, and he did what he had to do."
McClaskey notched a pair of pins before defeating Jacob Comer of Dallas Center-Grimes, 10-6, in the final. The senior improved his mark to 23-13.
McClaskey had been pinned by Comer during the regional duals three days earlier at Johnston.
"Riley wrestled a much smarter match," Groth said. "He didn't try to force the action. He just waited for the opportunities. I thought he had (Comer) pinned, but I always think we have (the opponent) pinned."
After the match, McClaskey told his coach that it was the first tournament he has ever won in his life.
"And so I told him, 'That's great that you've started now. Let's do it one more time this week,'" Groth said.
Monroe earned his second straight trip to the state tournament. The sophomore, who was last year's state runner-up at 106, will take a 36-6 record into Des Moines after winning a wrestle-back match for second place. He fell to second-ranked Kobey Pritchard of Southeast Polk, 12-4, in the final.
Three other Jaguars also lost to Southeast Polk wrestlers in their championship matches. Ayres (30-18) lost by a 19-4 technical fall to top-ranked Cade DeVos, Leo (19-9) dropped a 10-2 major decision to fourth-ranked Thaddeus Breitsprecker, and Stober (32-10) was pinned by third-ranked Gabe Christenson in 1:49.
Neils (32-7) lost a 10-2 major decision to second-ranked Zane Mulder of Dallas Center-Grimes. He had lost to Mulder, 11-5, at the regional duals.
Blubaugh (34-12) dropped a 5-4 decision to fifth-ranked Nate Kehoe of Des Moines Lincoln. He then rebounded with an 11-3 major decision over Ayden Kovaleski of Dallas Center-Grimes in a wrestle-back match, punching his ticket to the state tournament.
The eight state qualifiers are two more than Centennial's previous high of six, which came three years ago.
"It's also the most I've ever had as a coach. I had seven one year at Des Moines Roosevelt," Groth said. "I was talking to (assistant coach) Mike Fontana, and I think this might be the most ever at an Ankeny school, too."