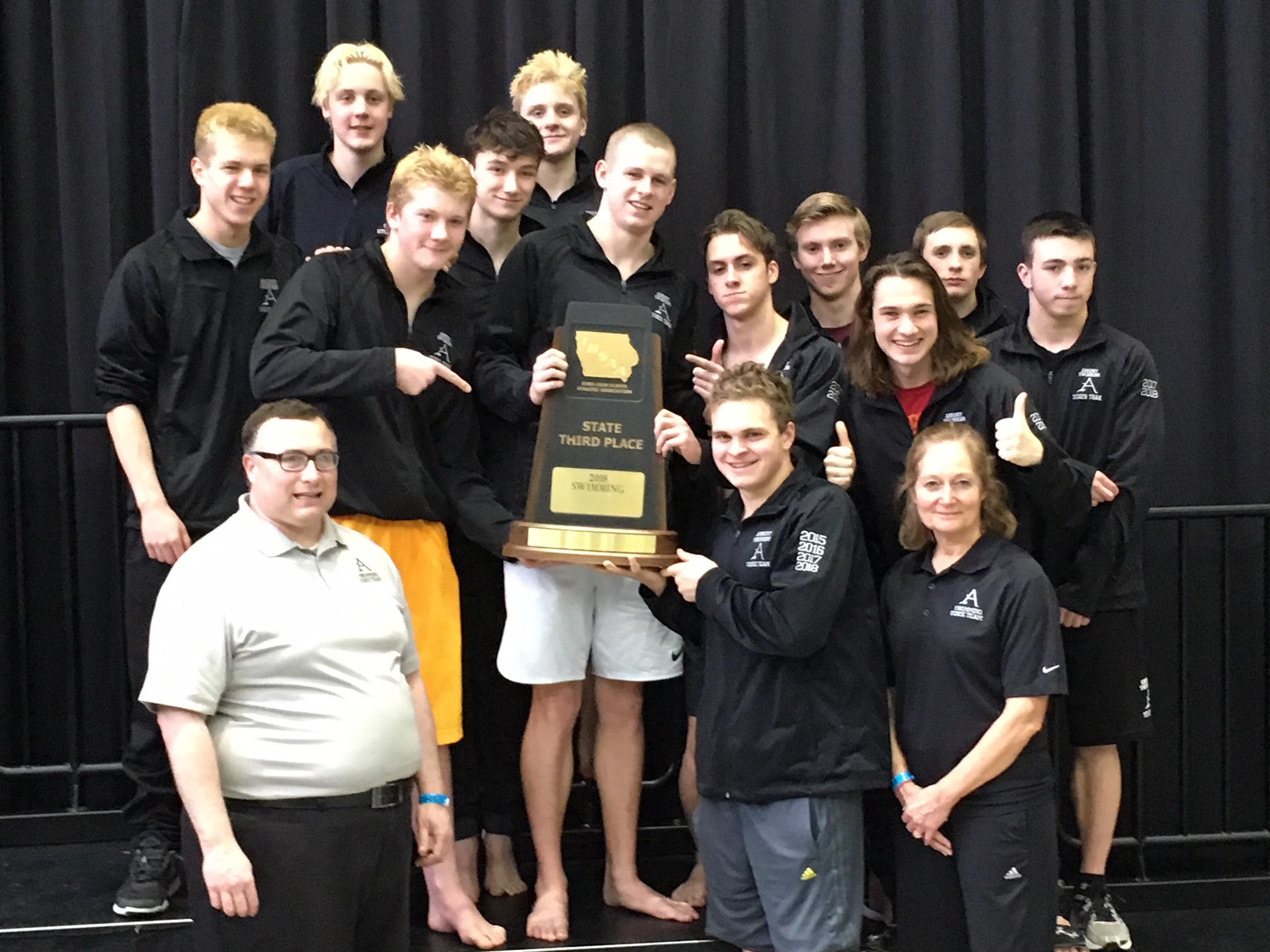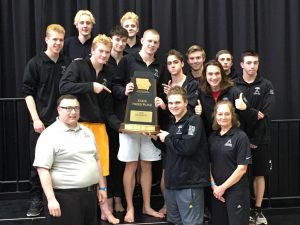 Thanks to the flip of a coin, the Ankeny boys' swimming team returned home from Saturday's state meet with a coveted trophy.
The top-ranked Hawks finished in a third-place tie with No. 5 Bettendorf after both teams scored 166.5 points at the Campus Recreation and Wellness Center in Iowa City. A coin flip was then held to determine which team would get the hardware, and Ankeny won.
"I had to move out of the way to get the coin," said Ankeny freshman Trent Frandson. "I don't know, maybe I had something to do with it."
Ankeny was hoping to contend for the title after winning a district crown last week, but it was two other teams from the Central Iowa Metropolitan League–No. 2 Ames and No. 3 Valley–that battled to the wire for the championship. Valley won the final event, the 400 freestyle relay, but Ames took second to edge the Tigers by one point, 221-220, in the team race.
"We swam so out-of-our-mind fast last week that I knew today would be a harder day to drop times," said Ankeny coach Justin Crouch. "I was just hoping that we could hold and stay in the same spot, but there were some teams that stepped up and swam really well. Valley swam great, and Ames did what they had to do to win the meet."
Ankeny was led by Frandson, who was one of the few Hawks to drop some time from the district meet. He placed fifth in the 200 freestyle with a time of 1:42.11, then later took second in the 500 freestyle in 4:32.42.
Dylan Moffatt of Cedar Falls won the 500 freestyle in 4:27.77, earning automatic all-American honors. Frandson came from behind to edge Andrew Fierke of Fort Dodge for the runner-up spot, setting a school record and earning all-American consideration in the process.
"I didn't feel like getting third," Frandson said.
Max Martin placed fourth in the 50 freestyle in 21.40 seconds. Adam Vaske took ninth in the same event in 21.71.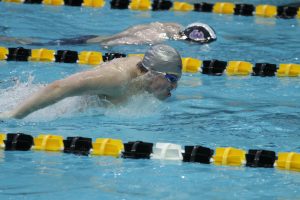 Connor Neils was fifth in the 200 individual medley with a time of 1:55.77. He later finished 10th in the 100 backstroke in 52.87.
"The tapers were hit and miss," Neils said. "Some people tapered for district and some tapered for this meet. That's how it always is. I think we should be proud of everything we did today."
Ankeny was the No. 1 seed in both the 200 and 400 freestyle relays, but had to settle for a third-place finish in both events. The team of Martin, Vaske, Neils and Frandson posted a time of 1:26.13 in the 200 freestyle relay, earning all-American consideration.
Frandson later teamed up with Vaske, Noah Westercamp and Martin to turn in a clocking of 3:11.15 in the 400 freestyle relay.
"I did a different taper than everybody else," Frandson said. "It had more yards in it because I had to do the 500, which is a distance event. I don't know if that had anything to do with it."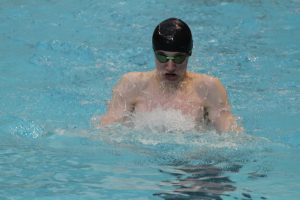 Ankeny opened the meet with a ninth-place finish in the 200 medley relay. The foursome of Westercamp, Mason Keinroth, Neils and Martin was clocked in 1:37.39.
"If we could have gotten off to a better start in the medley relay, I think we could have done some things. But we looked a little timid in that race," Crouch said. "As a whole, though, the guys fought through it. We were a little sluggish early in the meet, but they did come around and we swam awfully well the last half of the meet."
Ankeny earned its highest finish ever under Crouch, who has coached the team since 2009. It also equaled the best performance in school history, a third-place finish in 1999.
"It's probably the happiest third place I've ever had. I can't complain too much," Crouch said. "I'm happy for Connor to get to go up there (on the podium) to hold the trophy."
The Hawks posed for photos with the trophy after the meet. Neils, a senior who was competing in his last high school meet, held the trophy close to his chest.
"I feel great about getting a trophy," Neils said. "After districts we were just looking to get a trophy. We were hoping to win, but going home with a trophy feels great."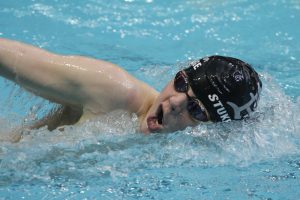 Here are the rest of Ankeny's results from the state meet:
200 IM–Keinroth, 2:01.95 (18th).
50 freestyle–Jae Swanepoel, 22.59 (24th).
100 butterfly–Weston Miner, 53.89 (tied for 15th).
100 freestyle–Vaske, 48.29 (17th).
500 freestyle–Westercamp, 4:50.09 (13th); Brek Stukerjurgen, 4:50.86 (14th).
100 backstroke–Westercamp, 54.44 (17th); Stukerjurgen, 55.86 (23rd).
100 breaststroke–Keinroth, 1:03.39 (23rd).