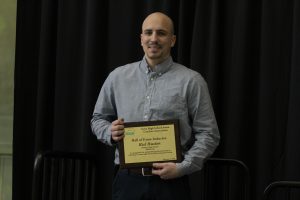 When Kiel Huston was a young athlete, he never dreamed that he would eventually become a Hall of Fame swimmer.
"Not for a second," he said. "I remember in age-group swimming, I was never the best. But just over the years through practice and coaching and hard work, I had the opportunity to have a really good career."
Huston went on to become a five-time state champion and an eight-time all-American at Ankeny High School, where he graduated in 2002 as the holder of four school records. His time of 56.03 seconds in the 100 breaststroke set a state-meet record in 2001 and has been bettered only twice in the last 17 years.
On Saturday, Huston was inducted into the Iowa High School Swim Coaches Association Hall of Fame prior to the state meet at Iowa City. He became the second Ankeny swimmer to be enshrined, joining Mike Johnson.
"It means a lot to me," said Huston, who went on to become an all-American at the University of Tennessee. "I put a lot of time and energy into a sport like this, and to be recognized as one of the greats of Iowa high school swimming, it's nice. The people remember you for what you contributed to the sport, and it's nice to be honored."
During his high school career, Huston won 41 of his 42 starts in the 100 breaststroke. His only loss in the event came at the state meet of his freshman year, when he was the runner-up.
Huston thrived under the tutelage of former Ankeny coach Mark Nordby, who made the trip from Minnesota on Saturday to attend the induction ceremony.
"His honor is well deserved," Nordby said. "Kiel put a lot of time and effort into his training, and on the mental part he was a competitor. It's not surprising that this is where he ended up today."
Huston was a three-sport athlete at Ankeny, where he was also the punter on the football team and a two-time state track qualifier in the high jump. Whatever sport he played, Huston simply hated to lose.
"He just had a tremendous work ethic," Nordby said. "It didn't matter if we were playing basketball as a team or doing a set in practice, he hated losing. By training hard and not wanting to lose, the guy just brought it every day. Everything he did he wanted to excel at."
Huston credited Nordby for providing the motivation that allowed him to succeed.
"Some coaches don't have that ability," he said. "They can squander talent by not coaching them the right way or training the right way, but he always knew which buttons to push. Having the talent is one thing, but having the team that we had together is what made us so successful."
Huston was a six-time conference champion and an eight-time district champion under Nordby. He helped the Hawks to a third-place finish in the state meet as a freshman in 1999, the school's highest finish ever.
Ankeny equaled that performance by tying for third in Saturday's meet. Huston and Nordby watched the meet together from the pool deck.
"It was a great day reminiscing and watching some fast swims," Huston said.