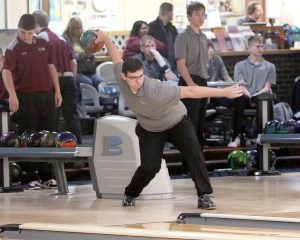 Collin Runyan and Sydney Sears are the Ankeny Fanatic preps of the week sponsored by Revive Clinic and Spa. The seniors are both members of the Ankeny bowling teams.
Sears has led the Ankeny girls' squad to a 5-5 dual-meet record. She placed fourth in the CIML Central Conference meet on Thursday at Great Escape and is ranked 14th in the state among all girls with a 196.6 average.
Runyan has helped the Ankeny boys' team to a 2-8 mark. He leads the Hawks with a 186.8 average, which includes a season-high series of 465 during a dual meet against Southeast Polk last Tuesday at Great Escape.
Here is some inside info on the duo:
You celebrated your Senior Night during the meet against Southeast Polk. Is it hard to believe that your high school career is almost over?
Runyan: It is hard to believe that it is my senior year. I have claimed that high school has been going on forever; however, as I look back now it feels like it wasn't that long ago that I first walked into my first high school class.
Sears: It's very hard to believe. I cried when I was being announced. I'm going to miss the girls a lot.
What did you think of your team's performance on Thursday at the Central Conference meet?
Runyan: I can't believe how well we did at the CIML tournament. We almost bowled a 3,000 and did bowl one the meet before. Being on the first team that has bowled a 3,000 in Ankeny in about four years, that feels amazing.
Sears: I'm very happy with the way the team did. We could have done better, but I am still proud of them.
Were you happy with how you bowled?
Runyan: I was not thrilled with my performance in the CIML tournament, or my average so far this season. That being said, the team's atmosphere under coach (Jim) Robidoux has been outstanding and one of the best teams I have ever bowled with.
Sears: I am happy with how I did. I could have done better, but it was still pretty good.
What has been the highlight of your season?
Runyan: The highlight of my season was the meet we had on Senior Night. I bowled very well and more importantly, we all had fun shooting a 3,000.
Sears: My highlight of the season was setting the new school record (of 471 during a dual meet against Marshalltown on Jan. 18 at Great Escape).
Both Ankeny teams are enjoying some success in their first year under coach Robidoux. What has he brought to the program?
Runyan: Coach Robidoux has brought some successes because of the atmosphere on his team. He has brought us together in a way that not many people can. We trust each other and that is not only hard to do but is also one of the major differences between a win and a loss.
Sears: He believes in us and makes it fun to be there.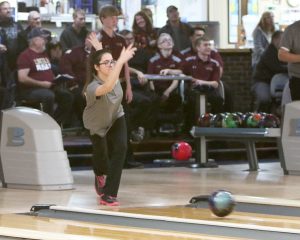 You've had four different coaches over the last four years. Has that made things diffficult at times?
Runyan: Having four different coaches in four years has been one of the hardest things I have had to work through. I have never had a coach outside of Ankeny schools hoping my school would make a good choice. I have been happy with most things Ankeny has done, but this can not be one of them.
Sears: Finding someone who can stick with the team has been the hardest.
Your team has also had to adjust to a new home venue, having moved to Great Escape after Plaza Lanes burned down in December. Has that been a smooth transition?
Runyan: Great Escape has been very welcoming after the Plaza incident, but like expected when bowling at a house that you do not know your average plummets downhill. You just have to figure it out in time.
Sears: To me it wasn't a big deal. I bowl there for league, but Plaza was where it all began for me so it's sad that we couldn't have any meets where it started for most of us.
Your team will compete in a Class 3A district meet on Tuesday at Marshalltown. Do you like the lanes at Wayward Social (formerly Totem Bowl)?
Runyan: I have only bowled in Marshalltown's new lanes once, but it was fun and nervewracking at the same time. I'm hoping to qualify for state as a team first, but also as an individual.
Sears: The lanes are pretty good.
What would that mean to you to qualify for state in your senior year?
Runyan: Qualifying for state my senior year would mean the world to me. My average is a lot lower this year than last and would remind me why I love this sport.
Sears: It would mean everything since it's my last year.
Plans for next year? Would you like to bowl in college?
Runyan: I will be going to Iowa Central Community College to study accounting and to bowl for their team.
Sears: I'm planning to attend DMACC for photography and maybe see where it will take me afterwards.