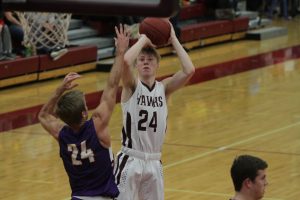 When the Ankeny boys' basketball team needed a bucket on Tuesday night, the Hawks got the rock in the hands of Dillon Carlson.
The junior sharpshooter responded to the challenge nearly every time.
After scoring a basket at the end of the first and second quarters, Carlson saved his most dramatic buzzer-beater for last. He made a 3-point goal with about 6 seconds left to give the Hawks a 62-61 victory in a CIML non-conference game at Des Moines Lincoln.
"We just didn't finish the game plan and we kind of let them back in it, but kudos to our guys for finding a way to get a stop late and then using some good ball movement on the final play to get a nice look for Dillon," said Ankeny coach Brandt Carlson. "Luckily, he was able to hit the shot."
Carlson scored 19 points as Ankeny snapped a two-game losing skid while improving its record to 7-13. The Railsplitters, who ended their own seven-game losing streak with a 48-47 victory at Des Moines Roosevelt on Friday, dropped to 5-15 on the season.
Carlson drove the length of the court at the end of the first quarter for a layup that gave Ankeny a 13-12 lead. His second buzzer-beater, which came off a sideline inbounds play, put the Hawks ahead at halftime, 26-22.
Ankeny held a 42-39 advantage after three quarters, but the Railsplitters then opened the final period with a 10-1 run to take a 49-43 lead with 5:55 left. The Hawks answered with a 6-0 run to tie the score at 51 with 4:23 remaining.
Ankeny later had a chance to put the game away, but the Railsplitters again rallied.
"We had a five-point lead with the ball, but we took a couple of bad shots or turned it over and (Lincoln) hit a couple of 3s and took the lead," Carlson said. "It wasn't ideal, but a win is a win at this time of the year."
Ankeny trailed, 61-59, when Lincoln missed a free throw. Ben Lyon grabbed the rebound and drove all the way to the basket before passing the ball to Jordan Kumm in the corner.
Kumm then attracted the Railsplitters' defenders before finding an open Carlson on the right wing.
"Our kids made it interesting," Carlson said. "We had our chances to pull away, but it was Lincoln's Senior Night and they played very well. They shot the ball very well."
The Railsplitters still had time for one last shot following Carlson's 3-pointer. But Ankeny's Jaxon Smith put some pressure on the ball, and Lyon came over to block a shot as time expired.
"We had some scary moments obviously, but that was a good finish for us," Carlson said.