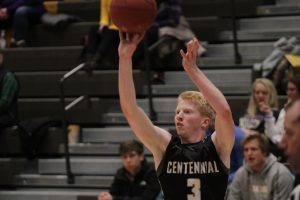 The Ankeny Centennial boys' basketball team appears to have solved some of its recent offensive woes.
Now, the Jaguars may have to focus on the defensive end of the court.
Johnston made 11 3-point goals in the first three quarters and went on to post a 68-57 victory in a CIML non-conference game on Tuesday, handing the visiting Jaguars their third straight loss.
"Our No. 1 key to win tonight was to execute our defensive game plan, and we obviously didn't do a very good job of it," said Centennial coach Bob Fontana, whose team dropped to 12-8 on the season. "We didn't do a very good of defending the 3-point line. We wanted to force them into more of an intermediate game, but give them credit–they knocked down shots."
Guards Boston Grimes and Bo Sandquist combined for 37 points as Johnston (17-3) extended its winning streak to seven games. Grimes led all scorers with 20 points, 10 of them in the first quarter.
Sandquist added 17 points, most of them from behind the arc. He finished with five 3-pointers, and four of them came after he limped off the court midway through the first half after twisting an ankle.
"They're a good shooting team," Centennial guard Jackson Brannan said of the Dragons. "They put in the work last summer and you can tell right now–they don't miss many free throws or open 3s."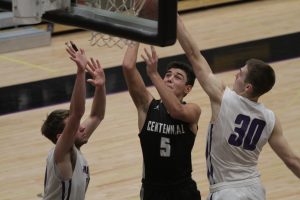 Brannan went 5-for-9 from 3-point range and led the Jaguars with a career-high 18 points. Hunter Strait had 17 points and five assists, Zach Kluver chipped in 11 points and two steals, and Ben Breeding grabbed six rebounds.
Centennial was coming off back-to-back losses at Fort Dodge and Waukee in which the Jaguars were held to just 37 points in both games.
"We shot the ball well, and we attacked the rim," Brannan said. "We had our open looks and we knocked them down, which we hadn't been doing the last couple of games. So that's always good."
Brannan made a 3-pointer at the buzzer to give Centennial a 19-15 lead heading into the second quarter. He combined with Kluver and Strait to score all 19 of the Jaguars' points in the opening period.
Johnston used an 11-1 run in the second quarter to take the lead for good at 26-22. Sandquist had a pair of 3-pointers during the run, while freshman Reid Grant added another trey.
"If you look at some of their games this year, they shoot the ball real well…those three perimeter guys do," Fontana said of the Dragons. "And if you look at their percentages, they're very, very high–both from the 3-point line and the free-throw line."
Johnston held a 28-27 lead at halftime, then broke the game open by hitting five 3-pointers in the third quarter. Sandquist and Camden Vander Zwaag each had two of them as the Dragons built a 52-40 cushion.
The Jaguars twice closed the gap to six points late in the fourth quarter, but Johnston eventually sealed the victory at the charity stripe. The Dragons made 16-of-19 free throws in the final period.