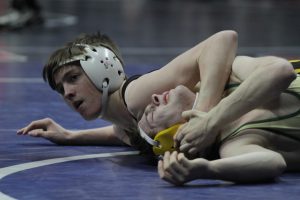 Ankeny wrestling coach Jack Wignall didn't want to spend too much time on the mat on Thursday afternoon.
Thanks to strong performances by Caleb Rathjen and Spencer Anderson, he didn't have to.
Both of Ankeny's state qualifiers won their first-round matches in the Class 3A state tournament at Wells Fargo Arena, allowing Wignall to spend the rest of the afternoon watching the consolation bouts.
"We went 2-for-2, and that was kind of our plan," Wignall said. "I said I wanted to be done by 2 o'clock, and it's 10 after."
The second-ranked Rathjen did not allow a point in his state tournament debut. The highly-touted freshman won by a technical fall, 16-0, over Hans Von Rabenau of Iowa City West at 113 pounds.
"I was content with my performance," Rathjen said. "I felt like I could have started a little better, but once I got into the flow of the match I felt really good."
Rathjen raised his record to 18-1 on the season. He will meet seventh-ranked Jakey Penrith of Cedar Falls (23-3) in the quarterfinals on Friday morning.
"I had a little bit of nerves, but that just comes with wrestling," Rathjen said. "No nerves that I haven't faced before."
Rathjen has wrestled only three matches since returning from an ankle injury that kept him out of action for nearly two months.
"I thought Caleb looked great," Wignall said. "He started off a little slow, but he wore the kid down and ended up (with the tech fall). That was the plan."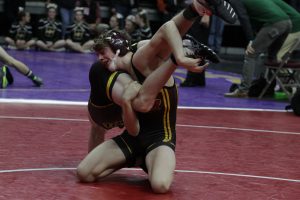 Shortly thereafter, Anderson took the mat and posted an 8-5 decision over Rylan Hughbanks of Bettendorf at 132. Also a first-time state qualifier, the senior improved his mark to 27-13.
"I was definitely nervous," Anderson said. "I think that's why I ran out of gas in the third period."
Anderson got off to a fast start, building a 4-1 lead in the opening period.
"Spencer got the first takedown and then got another one at the end of the period," Wignall said. "That's what we wanted him to do."
Anderson didn't have much of a scouting report on Hughbanks, who entered the tournament with a 27-25 record.
"I just knew he was big," Anderson said. "I was expecting to win the match."
Anderson will next face top-ranked Zach Price of Johnston, who is now 41-1 after posting a 17-5 major decision over seventh-ranked Lance Bormann of Iowa City High.
"This will be the third or fourth time I've wrestled (Price) this year," Anderson said. "I cut the gap pretty close last time–I should have taken him down in the first period. To score first will probably be the plan and then go from there, just manage the match as it goes."
Ankeny sits in 27th place in the Class 3A team standings with 5.5 points.