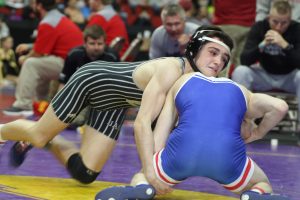 Ankeny's Caleb Rathjen and Ankeny Centennial's Ben Monroe are both headed to the Class 3A semifinals of the state wrestling tournament on Friday night.
The second-ranked Rathjen pinned No. 7 Jakey Penrith of Cedar Falls in 3 minutes 11 seconds in a quarterfinal match at 113 pounds on Friday morning at Wells Fargo Arena. The freshman won for the 19th time in 20 matches this season.
"I didn't know much about Penrith other than some matches I had watched on him," Rathjen said.
Rathjen is trying to become Ankeny's first state champion since Ross Larson won the 195-pound crown in 2012. He will meet third-ranked Dillon Gottschalk of Dubuque Hempstead (40-1) in the semifinals.
"For sure I'm confident that I can win (a state title), but I am going to have to wrestle against two more quality opponents to get there," said Rathjen, who could face Valley's top-ranked Nick Oldham in Saturday's championship match. "Right now I'm focused on the semifinals."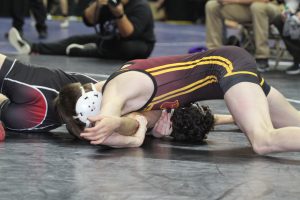 The sixth-ranked Monroe posted a 7-5 decision over fourth-ranked Zachary Thompson of Perry to reach the semifinals at 120. The sophomore defeated a higher-ranked opponent for the second straight day to improve his record to 38-6.
"Ben wrestled (Thompson) at a preseason tournament down in Kansas City and lost to him, 3-2," said Centennial coach Jay Groth. "Ben wrestles everywhere all the time, so he was familiar with the kid. We watched film and did our homework. We knew what (Thompson) liked to do and what he was good at and where we thought we could score. We stuck to the plan. Ben took one bad shot and got taken down, but other than that he wrestled really well."
Monroe built a 6-3 lead on the strength of three takedowns. Thompson got his lone takedown in the third period and then let Monroe escape, but he was unable to get the tying takedown.
"Ben kind of tightened up in the third period and let the kid back in the match a little bit, but he's got enough mat awareness to come out on top," Groth said. "He can recognize what he's doing and fix it mid-match instead of something bad happening. So he did a good job."
Monroe will face unranked Carter Logue of Carlisle (34-12) on Friday night. He is trying to reach the finals for the second straight year after earning runner-up honors at 106 last season.
Centennial's Logan Neils and Ankeny's Spencer Anderson are also guaranteed to be placewinners. They both lost in the quarterfinals before rebounding to win a second-round consolation match.
The sixth-ranked Neils suffered a 9-3 loss to fourth-ranked Wilfred Kadohou of Iowa City High at 160. The sophomore then bounced back with an 11-1 major decision over Brian Trowbridge of Marshalltown.
"That kid was strong," Groth said of Kadohou. "He had a back on him and some hips. I've never seen Logan get thrown before. (Kadohou) locked him up and tossed him to his back, and that was kind of the last straw. He's just a strong, physical kid."
Anderson, meanwhile, dropped an 8-0 major decision to top-ranked Zach Price of Johnston at 132. The senior then posted an 8-6 decision over Ethan Sorenson of Sioux City North.
Anderson (28-14) will meet fifth-ranked Graham Gambrall of Iowa City West (46-17) in a third-round consolation match on Friday night. Neils (34-8) will face eighth-ranked Bryson Hervol of Waverly-Shell Rock (38-14).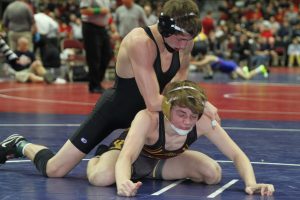 Centennial currently sits in 14th place in the Class 3A team standings with 23.5 points, despite going just 1-4 in the second round of consolation matches. Ankeny is in 22nd place with 14.5 points.
The Jaguars entered the tournament with eight qualifiers, the most in school history and tied for the sixth-most in Class 3A. But two of their qualifiers were eliminated on Thursday, and four more were knocked out on Friday morning.
Ninth-ranked Nic Leo lost a heartbreaker, 13-12, to No. 6 Levon Bellemy of Davenport Central in a second-round consolation match at 170. He finished the season at 20-11.
Sixth-ranked Colin Honderd (35-9) lost an 11-0 major decision to No. 4 Devin Ludwig of Western Dubuque at 182, ninth-ranked Noah Blubaugh (35-14) dropped a 3-0 decision to No. 4 Carson Taylor of Fort Dodge at 113, and Alan Ayres (31-20) lost a 5-1 decision to No. 7 Gabe Kjeldgaard of Council Bluffs Lewis Central at 145.