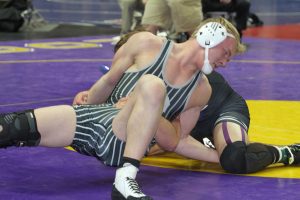 Six of Ankeny Centennial's eight state qualifiers are still alive following Thursday's opening session in the Class 3A state wrestling tournament at Wells Fargo Arena.
Ben Monroe at 120 pounds and Logan Neils at 160, who are both ranked sixth at their respective weights, each won by a major decision in the first round. Four of their teammates then won consolation matches to keep their podium hopes alive.
"I thought we wrestled all right," said Centennial coach Jay Groth, whose team is in 10th place with 15.5 points. "Ben and Logan looked really good. We've got a lot of guys here for the first time, so there were some nerves there. But I thought we came alive on the back side."
Monroe rolled to a 10-2 victory over fifth-ranked Dylan Albrecht of Waverly-Shell Rock. The sophomore raised his record to 37-6.
"I just had to keep calm and continue to do what I have all season long," Monroe said. "I just had to move my feet and get after it."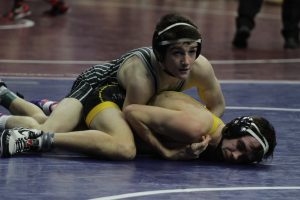 Monroe is Centennial's only qualifier with state-meet experience. He was a runner-up at 106 a year ago, but still had some butterflies on Thursday.
"You're always nervous," Monroe said. "But after the whistle blows you're like, 'Whew! I'm good.'"
Neils also fought off some nerves to post an 8-0 victory over 10th-ranked Tanner Doyle of Cedar Falls. The sophomore improved to 33-7.
"I was a little nervous coming down here for the first time in high school," Neils said. "But we knew (Doyle) was going to come out heavy and hard, so we just wanted to stay in good position and tire him out."
Both Monroe and Neils will face higher-ranked opponents in the quarterfinals on Friday morning. Monroe will meet fourth-ranked Zachary Thompson of Perry (41-5), while Neils will battle fourth-ranked Wilfred Kadohou of Iowa City High (37-7).
"I feel like I can make a run to the finals," Neils said.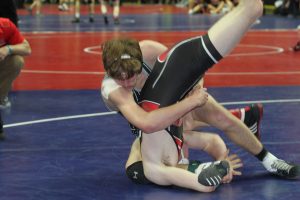 Centennial's ninth-ranked Noah Blubaugh at 113, Alan Ayres at 145, ninth-ranked Nic Leo at 170 and sixth-ranked Colin Honderd at 182 each won their consolation matches after losing in the first round. Honderd dropped a 7-2 decision to third-ranked Brandon Tessau of Waukee, but then rebounded with a fall over Mikey Koch of Dubuque Senior in 1 minute 20 seconds.
"I wrestled smart and I wrestled my hardest (against Tessau). I just didn't get it done today," said Honderd, who is now 35-8 on the season. "The loss was heartbreaking, so I just had to make sure my head was in the right place (for the next match). I can still get third place, and that would be very exciting for me."
Groth said he thought Honderd had a chance to be a finalist if he could have avenged an earlier 7-6 loss to Tessau.
"That was a big match," Groth said. "We were hoping to get by that one because then things look pretty good after that one. Colin went out and wrestled tough, but Tessau was just a little better than us today."
The Jaguars are in position to earn the first top-10 finish in school history. But Groth knows that it will take a lot more victories to reach that goal.
"I think these guys have put in the time and the work," he said. "The biggest hurdle for us was going to be experience. Being on this big stage and competing against some of these schools that might have eight or nine qualifiers also, but six or seven of them have been here before. We came here with just one kid with state-meet experience, and I think that made a difference today."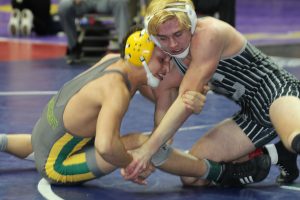 Here are the rest of Centennial's results from Thursday:
113–Blubaugh was pinned by Jakey Penrith (Cedar Falls), 5:28; won by technical fall over Hans Von Rabenau (Iowa City West), 19-3.
145–Ayres lost to Mason Hulse (Boone), 9-3; beat Noah Cunningham (C.R. Kennedy), 17-10.
170–Leo lost to Ben Sarasin (C.R. Kennedy), 15-6; pinned Jack Livingston (Norwalk), 4:48.
195–Noah Stober was pinned by Triston Licht (Fort Dodge), 5:23; lost to Ethan Barry (Clinton), 5-3.
285–Riley McClaskey was pinned by Carter Lawrence (Valley), 1:52; was pinned by Josh Vis (C.R. Kennedy), 4:45.