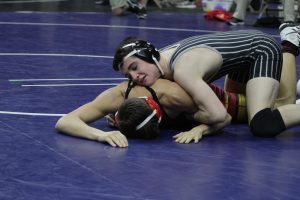 Ankeny's Caleb Rathjen and Ankeny Centennial's Ben Monroe share at least one trait in common.
They both look comfortable on Iowa's biggest wrestling stage.
The duo posted dominating wins on Friday night at Wells Fargo Arena to advance to Saturday's championship matches in the Class 3A state tournament.
"It feels great. It's an awesome feeling," said Rathjen. "It's an amazing atmosphere here."
The second-ranked Rathjen defeated No. 3 Dillon Gottschalk of Dubuque Hempstead, 6-1, in a semifinal match at 113 pounds. Just a few minutes later, the sixth-ranked Monroe wrapped up an 11-1 major decision over Carter Logue of Carlisle at 120 to earn his second straight trip to the finals.
"It's pretty cool," said Monroe, who was the runner-up at 106 last season.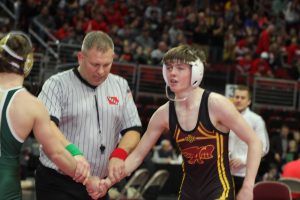 Rathjen, a freshman, got an early takedown and never let Gottschalk back in the match. Gottschalk lost for only the second time in 42 bouts this season.
"We watched some video of him and had a pretty good game plan," said Rathjen, who improved to 20-1. "I just tried to go heavy on his head, bang and get him off-balance. He likes to be in ties, so I tried to get him out of ties and make him uncomfortable."
Rathjen becomes Ankeny's first state finalist under coach Jack Wignall, who took over the program in 2013. The Hawks are currently in 18th place in Class 3A with 25.5 points, despite having just two state qualifiers.
"It feels great to be in the finals," Wignall said. "Caleb did what we thought he needed to do to win the match. He wrestled well."
Monroe was even more dominant on an adjacent mat, putting Logue on his back a couple of times en route to the victory. He raised his record to 39-6.
"Ben wanted to pin the kid," said Centennial coach Jay Groth, whose team is in 13th place with 38.5 points. "He worked real hard on top and rode him. He looked great."
Monroe defeated the unranked Logue after toppling two higher-ranked opponents in the previous rounds. The sophomore said he doesn't pay attention to the rankings anyway.
"They don't matter at all," Monroe said. "You still have to go out and wrestle."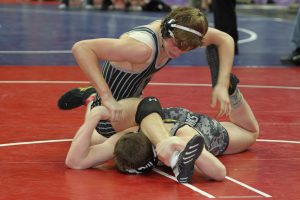 Centennial also got a victory from sixth-ranked Logan Neils in a third-round consolation match on Friday night. Neils posted a 10-3 decision over No. 8 Bryson Hervol of Waverly-Shell Rock, assuring himself a top-six finish at 160.
"We had seen (Hervol) a few times," said Neils, who is now 35-8. "We knew he wasn't that great on his feet but he was pretty good on top, so we just had to keep the match on our feet as much as we could."
Ankeny's Spencer Anderson dropped a 3-2 decision to fifth-ranked Graham Gambrall of Iowa City West in a third-round consolation match at 132. Despite the loss, the senior is guaranteed to earn a spot on the awards podium.
"I guess for the most part (I'm happy), but I really wanted to get that one," Anderson said.
Anderson (28-15) will face 10th-ranked Ryan Strickland of Southeast Polk (26-19) in a battle for seventh place on Saturday. Strickland posted an 8-4 decision over Anderson at the CIML tournament last month.
"We'll look at film tonight and be ready to go Saturday," Anderson said.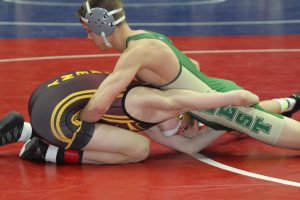 Neils will meet seventh-ranked Levi Egli of Fort Dodge (27-8) in a consolation semifinal. He defeated Egli, 3-0, in the finals of the CIML tournament.
With a win, Neils could face second-ranked Zane Mulder of Dallas Center-Grimes (42-2) in the third-place match. Mulder has handed Neils two of his losses.
"It'll probably be me and Mulder again," Neils said.
On Saturday night, both Rathjen and Monroe will face top-ranked opponents. Rathjen will meet Nick Oldham of Valley (38-1), who has pinned his first three foes at the tournament in a combined time of 5 minutes 23 seconds.
"It would mean everything (to win). That's what the season is made for–Saturday night," Rathjen said. "I've worked out with (Oldham) a little bit up at Sebolt's (practice facility in Ames), but that's not really a match-like atmosphere. We go up there on Sundays, so I've wrestled him a couple of times. I'm confident going into the match."
Monroe will then meet two-time defending state champion Kyle Biscoglia of Waukee, who boasts a 50-0 record. Biscoglia has defeated Monroe twice this season.
"I've just got to do my thing and get after it this time," Monroe said.
Groth said he's confident that Monroe can make things interesting.
"Ben's wrestling better and better, and we're going to go watch some more film and drill a few things and do what we can to challenge Biscoglia," he said. "That's why we wrestle–to see what we can get done."