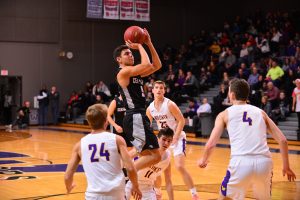 The Ankeny Centennial boys' basketball team didn't want to end the regular season with a four-game losing streak.
Mission accomplished.
The Jaguars jumped out to a 33-8 halftime lead and cruised to a 66-52 victory over visiting Des Moines Lincoln in a CIML non-conference game on Friday. The win snapped a three-game skid for Centennial, which improved its record to 13-8.
"We know they are a high energy team, and we knew we would have to bring the fight to them," Centennial guard Hunter Strait said of the Railsplitters. "We knew they were never going to lay down so we knew we'd have to come at them with all we've got."
The Railsplitters outscored Centennial, 44-33, in the second half. Jaguars coach Bob Fontana said his team struggled to regain its focus after halftime.
"It was like Jekyll and Hyde," he said. "The team that I saw for us the first half was not the team that I saw for the second half, and Lincoln played like it was 0-0 and did some nice things that we're going to have to get corrected by Monday night."
Strait led the Jaguars with 19 points. Micah Johnson had 12 points, seven rebounds and four blocks.
Johnson had two of Centennial's seven 3-point goals, matching his total from the first 20 games of the season. Brandon Van Meter went 2-for-2 from behind the arc and added eight points.
Lincoln, which has lost 10 of its last 11 games, dropped to 5-17 on the season. The Railsplitters will return to Centennial on Monday to play the Jaguars in a Class 4A substate quarterfinal.
"We kept things pretty basic tonight from an X and O standpoint," Fontana said. "But I felt like we needed to play with some urgency and get back on the winning track after losing three in a row on the road. Obviously, I was happy with the way we started the game. Our defense was really good the first half–you couldn't ask for anything better than that."