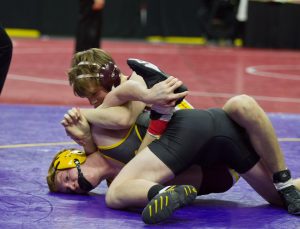 Ankeny senior Spencer Anderson closed out his wrestling career in style.
Ankeny Centennial sophomore Logan Neils showed that his career is just beginning to blossom.
Neils earned a fourth-place finish at 160 pounds in the Class 3A state tournament on Saturday at Wells Fargo Arena. Anderson finished seventh at 132 with a 9-7 decision over 10th-ranked Ryan Strickland of Southeast Polk.
"It feels great and I couldn't have pictured a better way to go out, especially against Ryan," Anderson said. "I had never beaten him, and to finish seventh in the state tournament is just a dream come true."
Anderson avenged an 8-4 loss to Strickland at last month's CIML tournament. He finished the season with a 29-15 record.
"I just stayed to my offense for the entire match and really just dominated him from the first whistle, despite a couple cheap stalling points here and there that were questionable," Anderson said.
Ankeny is currently in 21st place in the Class 3A team standings with 26.5 points, despite having just two state qualifiers. Freshman Caleb Rathjen will wrestle for the state title at 113 on Saturday night.
"We couldn't have come down here and done much better," said Ankeny coach Jack Wignall. "We brought two kids and we have two placewinners, so we're 2-for-2. It's very exciting for us."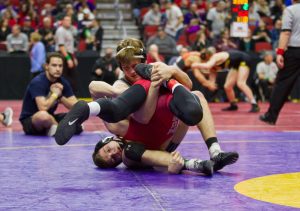 Neils, meanwhile, helped Centennial move into a tie for 12th place heading into Saturday's finals, where teammate Ben Monroe will wrestle for the 120-pound crown. Both the Jaguars and Des Moines East have scored 43.5 points.
The sixth-ranked Neils posted a 6-4 decision over No. 7 Levi Egli of Fort Dodge in a consolation semifinal. It was his second win of the season over Egli, who dropped a 3-0 verdict to Neils in the finals of the CIML tournament.
"I was confident," Neils said. "I just had to push the pace and take some good shots."
Neils then lost to second-ranked Zane Mulder of Dallas Center-Grimes for the third time this season in the third-place match. Mulder got a pin in 2 minutes 47 seconds.
"I was holding my own," Neils said. "It was probably one of my best matches, but I made a mistake and he made me pay for it. He's good like that."
Neils finished the season with a 36-9 record. He went 4-2 at the state tournament, losing only to Mulder and to fourth-ranked Wilfred Kadohou of Iowa City High in Friday's quarterfinals.
Kadohou has advanced to the finals.
"Logan had a good tournament," said Centennial coach Jay Groth. "He went out there and wrestled tough (against Mulder) and got caught in a bad position, but overall he finished the season really strong and wrestled great at state. When we can get our guys to perform here on the big stage, that's what we're here for."
Groth said he expects Neils to be atop the awards podium next year. And the year after that, too.
"We're looking for Logan to finish his career as a two-time state champ," he said. "He works hard and puts in the time, and he's just going to get better and better. He's got a bright future."