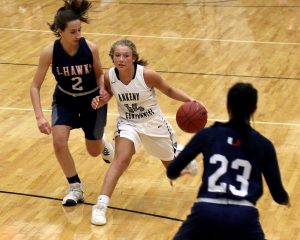 Survive and advance.
That's what it's all about for the Ankeny Centennial girls' basketball team at this time of the year.
The fifth-ranked Jaguars fought off a pesky Urbandale squad to post a 52-39 victory in a Class 5A regional semifinal on Saturday at Centennial. The win was the 10th in a row for Centennial (19-3), but it didn't come easily.
Urbandale (10-13) trailed by just five points with 4 minutes left to play, 42-37, before the Jaguars closed out the game with a 10-2 run.
"For whatever reason, the girls' union gave us an extremely tough draw," said Centennial coach Scott DeJong. "Urbandale lost to Valley by three points two weeks ago, and they were even with Dowling late in the game (on Jan. 9). So that was exactly the kind of game that we thought it was going to be. Fortunately, we made some plays when we needed to."
Sydney Wycoff led Centennial with 17 points, including four 3-point goals. She had 14 points in a 68-55 victory at Urbandale on Dec. 19, when the Jaguars overcame an early 20-12 deficit.
"It was a five-point game at one point tonight, so personally I think that's too close," Wycoff said. "But we also knew it was going to be a game that was considerably close and a game we would have to show toughness and poise."
Centennial's Chloe Olson showed plenty of toughness in the win. She contributed 11 points, 13 rebounds and four steals after being diagnosed with Influenza B earlier in the day.
"I don't know how many people can do that, but Chloe can," DeJong said. "She was typical Chloe–she got better as the game went on. But we had her out (of the game) more than we would normally. And Rachel (Schon) has been sick. That's just how our season has been."
Schon also scored 11 points for the Jaguars. She had a perfect shooting night, going 4-for-4 from the field and 3-for-3 at the free-throw line.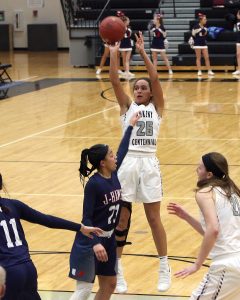 Keanna Williams added seven points, all of them in the second half. She also dished out two assists.
"Our seniors played great," DeJong said. "I thought Keanna had her best performance since she's been back, so that's certainly encouraging."
Centennial jumped out to a 21-9 lead in the first half, but the J-Hawks then rallied with a 9-0 run. The Jaguars held a 28-20 advantage at halftime.
Urbandale later went on a 9-4 run to cut Centennial's 10-point lead in half, but the Jaguars were able to hold on for the victory.
"Urbandale played really well," DeJong said. "They're the fifth-best 3-point shooting team in our class, and they shot the ball well from 3. We're just elated to get a win. We really think that's going to help us come Tuesday, playing a game that was pressure-packed like that. It had the intensity of a regional final game, that's for sure."
The Jaguars will host No. 12 Valley (12-10), the defending state champion, in the regional final on Tuesday at 7 p.m. The Tigers lost both meetings against Centennial during the regular season.