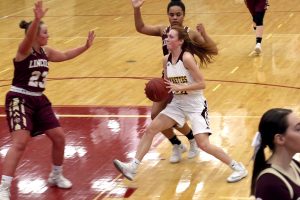 Apparently, there is a second girls' basketball coach in Ankeny who likes to celebrate big victories by doing the Hokey Pokey.
Scott DeJong started the tradition during his long run at Ankeny High School, where he guided the Hawkettes to six state championships. He then continued the ritual when he moved across town to Ankeny Centennial, where he led the Jaguars to their first state title in 2016.
On Saturday night, Ankeny coach Dru McAnelly and the Hawkettes joined the party. They celebrated the team's first postseason victory since the split into two high schools by doing the Hokey Pokey in the locker room.
"I'm a die-hard Hawkeye fan," said McAnelly. "That's an old Hayden Fry thing, so that's a little tradition of ours."
Ankeny pulled away in the second half to defeat visiting Des Moines Lincoln, 57-41, in a Class 5A regional semifinal. The Hawkettes outscored Lincoln in the third quarter, 19-10, to build a 43-31 advantage.
"We came out in the second half working really hard and running the court," said junior forward Sara McCullough. "That's how we were able to (increase) the lead."
McCullough scored a game-high 22 points on 8-of-10 shooting as Ankeny evened its record at 11-11. She had three of the Hawkettes' seven 3-point goals, grabbed 10 rebounds and blocked three shots.
"Sara hit a couple of big 3-pointers for us," McAnelly said. "We really shared the basketball. I don't know how many times we passed up a good shot for a great shot."
Sydney Shadravan added 10 points and five rebounds for the Hawkettes. Kayla Pitz dished out eight assists and had three steals.
Hannah McKinney and Danielle Sheppard each had 12 points to lead Lincoln, which finished with a 7-15 record. The Railsplitters also lost to Ankeny in their season opener, 77-30, on Nov. 21.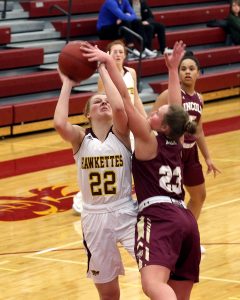 Saturday's game wasn't nearly as lopsided. Lincoln used a strong finish in the second quarter to cut the Hawkettes' lead to 24-21 at the break.
"I think we came out a little nervous," McAnelly said. "They went on a 7-0 or 8-0 run to end the first half and made it a close game."
However, Ankeny quickly took control of the contest in the third quarter. The Hawkettes eventually regained a double-digit lead.
"I liked our energy coming out of halftime," McAnelly said. "We missed a couple of defensive rebounds when we were up 12, and I thought we could have been up by like 16 or 20. I told the girls that we were a couple of stops and rebounds away from opening this thing up, and then we did that in the fourth quarter."
It's been a season of firsts for the Hawkettes, who won their first two conference games since the split while also reaching double digits in wins for the first time since DeJong left Ankeny in 2013. Now, they have also hosted–and won–their first tournament game.
"It's a good feeling. These girls deserve it," McAnelly said. "They've come a long way. They bought in from day one, and they're starting to reap the benefits."
Ankeny will play at third-ranked Dowling Catholic (19-3) in the regional final on Tuesday at 7 p.m. McCullough would like to add a state tournament berth to the team's list of firsts.
"It feels so good to get this win," she said. "Now our record is even, and we're going to prepare for Dowling."